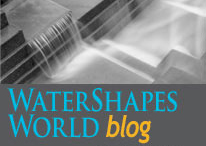 By Jim McCloskey
Every time there's an earthquake in any populated place on the planet, my heart and thoughts go out to those who made it through the experience and to the families and friends of those who didn't. The recent deadly quake in Nepal is another in a long line of seismic events that trigger memories of my own experiences when the ground has started moving.
As a southern California resident since 1959, I've been through several substantial temblors – few as arresting as the one that occurred when I showed up for work very early one morning at Pool & Spa News and the nasty Whittier fault cut loose a couple dozen miles to the east.
At the time, the business was headquartered in an old, four-level brick building in downtown Los Angeles that had gone through extensive seismic retrofitting – a requirement for all unreinforced multi-story commercial structures built before the disastrous Long Beach earthquake of 1932. I felt a bit like a ping-pong ball in my third-floor office and had rubbery legs for another day or two, but I still thank my lucky stars that the renovated building was up to a fairly brutal challenge.
My most fearsome seismic experience, however, came courtesy of the much larger 1994 Northridge earthquake. The epicenter of that one was just ten miles away from my home, and I still recall the initial jolt as well as the flash of recognition that our three young daughters were half a house away from Judy and me – two of them in a tall bunk bed. I don't know if we've ever gotten out of bed so rapidly or moved so fast, but I absolutely recall the relief of finding that all was well with our girls.
Once the shaking subsided and we started moving around, I recall my oldest daughter asking "What's that sound?" as we surveyed our surroundings with flashlights and waited for the inevitable aftershocks. It was very early on a winter morning and the power was out, so it was quite dim outside. But when Simone and I reached the dining room, we observed that the noise was coming from our swimming pool, which was still sloshing side to side and pouring across the decks and planters.
We were all still scared, but it was an awesome sight to see: Our huge tub of water had been whipped so profoundly from side to side that nearly a quarter of its contents were gone – and it wasn't finished yet, with each aftershock agitating the water anew and keeping the waves rolling.
All of this came back to me when I saw the closed-circuit video taken of a swimming pool in Nepal (click here): Watching the camera start shaking – gradually at first and then with increasing violence – I immediately thought back to 1994 and developed a bigger picture of what had transpired in my own backyard more than 20 years earlier.
It must have been a good four or five minutes before Simone and I noticed the noise the pool was making in 1994, and watching the way the waves formed in the Nepalese pool in 2015 helped me understand the time lapse we'd observed: The shaking had to stop before the sloshing could begin.
Southern California has recovered from its earthquakes and so will Nepal, but it will take time and resources to make the place and its people whole again. Do what you can: Please send donations to the Red Cross or some other disaster-relief group of your choosing. Nepal may be far away, but we know for a fact that these disasters can occur much closer to home.