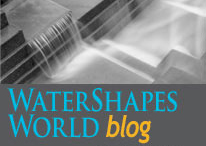 By Jim McCloskey
I've been an avid fan of the Olympic Games ever since I can remember.
It all started with the 1960 Games in Rome, which I watched with my brothers and sisters through some of the few hours of available television coverage. Mostly I recall Rafer Johnson's and C.K Yang's duel in the decathlon, with the mere concept of competing in ten separate events blowing my young mind. And I recall watching Cassius Clay in boxing
and Jerry West playing basketball, too, in between the equestrian events.
There was more substantial coverage in Tokyo in 1964. It was the first time I ever saw competitive swimming, and the pre-digital broadcasting also helped me understand the concepts of time zones and tape delay when things I'd read about in the morning paper finally showed up on television.
U.S. swimming sensation Don Schollander won four medals that year, all gold, and as a very green swimmer myself, I marveled at the distances (whole lengths of the pool!) and the determination. (Speaking of distances, I also recall Abebe Bikila following up his 1960 triumph by winning his second marathon, this time wearing shoes!)
Schollander's performance, followed in subsequent years by those of Mark Spitz, Janet Evans, Amanda Beard, Michael Phelps and others, have almost certainly done great work in perpetuating swimming's popularity and advancing the causes of a whole array of water-oriented sports, from water polo to surfing. And dare I say it, the benefits of all that exposure have simply been enormous for watershaping.
Not easily sidetracked, I have devoured as much as I can of every Olympiad since the black-and-white days, although I must say it was easier to do so when the broadcasts were far less extensive than they are now. Back in 1960, 20 total hours of coverage were offered – that was it! In 2016, it was basically a 24-hours-a-day-for-16-days-straight enterprise, with multiple channels and web-based options and so much happening simultaneously that it made me dizzy trying to keep up.
The amount of pre-Olympic coverage was almost too much on its own, with trials, friendly matches and preliminary competitions stretching out for months ahead of the actual Games – along with all sorts of coverage of preparations undertaken by the host city, the now-too-common doping scandals and the usual array of accusations, failed deadlines and petty corruptions. On a happier note, I always get caught up in the design and construction of the aquatic centers, which have tended to be among the most ambitious and spectacular of the new facilities added to each city's architectural portfolio.
In the case of the host city this time, the pre-event coverage was generally skeptical and occasionally mean-spirited, with projections made almost daily that some such facility or other wouldn't be ready and that nobody in Rio de Janeiro seemed resolved to pull things together. Happily, those reports were mostly off the mark – with the specific exception of the green, malodorous diving pool, the saga of which seemed to capture the world's attention in the worst sort of way for a couple days in the midst of the Games.
Mistakes happened, some bigger than others, and I'm sure Rio de Janeiro is a much larger mess than the television coverage ever let on. But I refused to let any of that steer me away from my sense that the Rio Games were a wonderful athletic and even a civic success. There were so many great stories, just in the swimming competition: Michael Phelps, Ryan Lochte (well, maybe not so much) and the events' "mature" swimmers more than held their own, while the flock of younger participants – Katie Ledecky foremost among them – promises to keep the competition interesting for fans of U.S. swimming through several more Games to come.
Yes, there were too damned many commercials and far too much scheduling of the best events way past my usual bedtime. But in the grand scheme of things, I just can't get upset.
Hooray for the Olympics! All I can say is, "Go, Katie, go!"