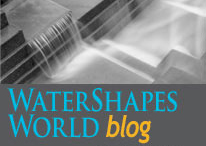 By Jim McCloskey
Through many of the early "WaterShapes World" blogs, I wrote (perhaps too often?) about what was happening with the WaterShapes franchise and web site and all sorts of grand plans we had to burst back onto the scene with a huge, multilayered portal aimed at serving a broad universe filled by watershapers and their clients and prospects.
In reality, we didn't do much bursting and instead discovered what all sorts of web operations have experienced through the years: Making things happen takes time, effort and insight and involves lots of step-wise processes, with new components and services emerging from old components and services that have been carefully assembled, launched and tested. Most important of all, these things take far longer than anyone would ever imagine to catch on and build an audience.
Where I had hoped to build Rome in a day, in other words, I found out instead that a much lengthier process was what I had actually signed up for. It has taken time, but some important elements are just now snapping into place and will be coming on line within the next little while.
First, there's our WaterShapes.com Resource Directory, which has been up on the site for quite some time but wasn't being actively updated or expanded to reflect today's marketplace. That will change soon: Within the next few days, in fact, we'll be sending listing-update materials to watershape suppliers and, with their help, will bring the directory up to date in rapid order.
Second, some of you may already have noticed that we've started dipping our toes into social media and begun using these outlets to market what we do. I've expanded my own presence on Linked In and Facebook, for example, and we're starting to build WaterShapes company pages as well. Within a short time, we'll start to use notifications on these networks to alert you to what's going on beyond our newsletters and what articles and information are being uploaded directly to the site.
Third, we're now set up so that social-media links can be used to forward newsletter and web articles to your colleagues, clients and friends. So far, the only way to move anything along has involved going to the landing page, copying the article's web address and then pasting it into a forwarding message. Now the process will be much simplified, and the system has the capability of being used in the full range of social-media circuits – meaning information will reach well beyond Facebook or Linked In or Google+ into networks I've never even seen before.
We have other exciting projects in the works, the biggest of which has to do with converting the pdf-based magazine archives into web-friendlier html documents. I'll save the details on this particular development for later, but the great thing is that this new approach will let us do things we never dreamed of doing in print with respect to images, external links and more. It's all really cool, and I look forward to sharing the results with you.
So we've been busy, big time, and it's nice to be able to report that we've completed a whole lot of the necessary spadework and are ready to step back and watch things grow. So keep an eye on your email: Some of the grand things we set out to accomplish more than a year ago are now swinging into view – and I know you'll like what you see.