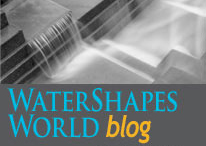 By Jim McCloskey
About 18 months ago, I began (but after a while moved on from) a series of blogs about specific features and details of watershapes that I like or dislike. Other than my tendency to have a short attention span, I don't know quite why I stopped writing those articles – and maybe I'll get back to them someday in a systematic way.
For right now, however, recent personal experience makes me write about one particular detail that has bothered me exquisitely through recent weeks of regular, necessary spa use: Why in the world would anyone put a run of bullnose coping (or any other sort of grab-worthy intrusion) in a place where almost anyone who ever sits in the spa will have to live with it poking into his or her back or shoulders or neck? Why kill the joyful buzz of a good soak?
I bring this up because I injured my lower back early in May while helping my daughter and son-in-law move from one house to another. I don't know what triggered the injury, but I had trouble getting out of bed the next morning: The pain of trying to stand was so intense that I crumpled onto the floor and waited for the spasms to stop. But they didn't. After consulting with my doctor, I gradually made it over to Judy's car and had her cart me over to our medical center's emergency room, where they pumped me full of painkillers and muscle relaxers and, a short time later, sent me home to recover.
I was to alternate heat and ice for a couple days, and the doctor was glad to hear that I had a spa, recommending good, long soaks to help get my lower back limbered up and in proper working order once again. This I did, happily in fact, but as it has every time I've ever sat in my pool's attached spa, the damned coping made it tough for me to get truly comfortable.
I've endured this situation since 1989, so I guess I'm largely to blame for having put up with the intrusion for so long. But the fact I was in the spa a half-dozen times a day for several days gave me the opportunity to turn a lack of affection into a burning, heart-felt loathing.
The moral of the story: Please, designers and builders, don't do this to people who will sit in your custom-concrete spas. Please find another approach to completing the look of the installation, even if it means devising a creative transition from the necessary grab rail in the pool part of the project to a rounded-over look in the spa.
I recall the glee I expressed the first time I ever saw a concrete spa with coping done the right way: I was on the road with David Tisherman late in 1999 and saw that not only had he rolled the top edge of the spa back, but he'd also done the walls at a slightly reclining angle to make it even easier to get fully comfortable.
I've since seen lots of concrete spas that have been done properly, but I still see far too many that look just like mine, with plumb-perfect vertical walls and bullnose coping that juts a good three-quarters of an inch or an inch beyond the lip. That's not much, but it's enough to make me want to take a sledgehammer to my own spa's coping every time I use it.
Hydrotherapy helped my back; someday soon, I'm determined that I will return the favor and give my spa the therapy it needs to enable me and my family to enjoy our soaking sessions even more.