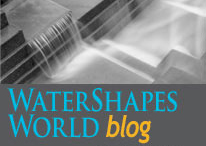 By Jim McCloskey
There's no doubt that watershaping took it on the chin in the Great Recession. Some businesses vanished, and those that have persisted are, in many if not most cases, leaner than they were back in 2008 and just different in many respects from what they once were.
It's also fair to report, because the economy and retrenchment of the financial system really haven't allowed otherwise, that the rebuilding process for the survivors has generally been slow and deliberate for some and a bit disappointing for others. And in some cases, it's been slower and more deliberate and more disappointing than it probably needed to be, simply because the owners and managers of so many firms have been reluctant to let themselves become as exposed to a downturn as they were when things started heading south in 2009.
So common sense has prevailed: Work trucks and equipment are being made to last longer; constricted staff populations are being asked to do more to earn their keep; margins continue to be shaved to maximize value and win business. It's a recovery, most would concede, but "robust" isn't a word I've heard more than a few people use to describe it.
I bring this up because I was surprised the other day when a friend called and told me he was beginning to batten down the hatches for another round of foul economic weather. I was stunned, because this person is among the most positive and optimistic of all human beings.
What are the odds, he asked, that we as a country have done what's required to avoid another bad recession? The government is gridlocked, nobody's listening to anyone else, and our leaders seem to lack the gumption to lead us through even a prolonged soft spell, let alone another big downturn: There's no wiggle room left. The housing market seems to be mending and credit has loosened a bit, but fluctuations make both businesspeople and consumers skittish. "It's as though we actually turned out the lights in 2008," he said, "and all we've done since is get by on the change we've been able to dig out of our couches."
That's a colorful rant, but it's also apocalyptic at worst and hyperbolic at best – and I wonder where it's coming from. "Look," I said, "my company went through hellacious times in 2009, 2010 and 2011, and we managed to survive. And I'm in the publishing business, not the watershaping business. My industry collapsed on itself for all sorts of reasons beyond general economics and still hasn't come back anywhere near as well as watershaping has."
In fact, I said, the watershaping businesses I'm familiar with are, in the main, better off as businesses than they were before the recession, when so many of them were top-heavy, overextended and blinded by wondrous cash flows. I believe – and told my friend so – that most are fundamentally sounder today because surviving the Great Recession forced them to focus, so steadily and for so long, on the basics.
Nobody wants to see another downturn, but even if my friend is correct and a dip is coming, experience is a great and beneficent teacher. Watershaping's growth and development may be incremental now rather than leaping and bounding the way they were in 2006 and 2007, but I see no reason for pessimism as we face the future: We're better at the business of doing what we do now than we were in 2008 and in fact have better prospects to come as the housing market and the financial sector fully recalibrate and recover.
A little caution is always advisable, but the way I see it we're right on course, with fairer weather and more growth to come.
***
You may have noticed a change at the bottom of this edition of WaterShapes.
I learned shortly before publication of the last edition that Lenny Giteck, my long-time, faithful compatriot in bringing this newsletter to you from its origins in May 2010, would be bringing his direct participation with us to a close. You may recall that he stopped providing the newsletter with Ripples items at the end of 2014; now he's also pulled back from The Aquatic Quiz, which has the distinction of having appeared in 110 consecutive editions of the newsletter in the past four-and-a-half years.
It's not the end, however, either for Ripples or The Aquatic Quiz. Far from it, as both are to be incorporated into The Ripples Report, Lenny's venture into the world of business-to-client web marketing. His intention is to give watershapers (as well as retail operations and service companies) a way to communicate regularly with clients and prospects in friendly, interesting and amusing ways – a means of staying in touch during the gaps on both sides of season-opening sales and season-ending close-outs.
We at WaterShapes will be helping him market his service once it's ready for your consideration. In the meantime, we bid The Aquatic Quiz a fond farewell and wish Lenny all the best in his new venture.