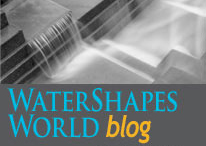 By Jim McCloskey
These last few weeks have been a whirlwind: Unusually frequent texts, emails and phone conversations. Urgent messages to accountants, attorneys, board members and stakeholders. Logistics and practicalities to consider. Contracts to sign. I recall this sort of tumult from 1996, when I founded my company – although with some nostalgia I don't recall even a single email or text being part of the package back then.
Times have changed, and processes that took months to navigate mostly by snail mail more than two decades ago passed with a virtual blink of an eye in November 2019. I have to say that I'm still amazed at how quickly my collaboration with Watershape University came together.
In the days since November 18, when I signed the agreement with Dave Peterson transferring ownership of watershapes.com and other assets to WU, I've spent a lot of time thinking about the future. That's not an uncommon exercise for me at this time of year, but I have to say there's more vitality and intricacy to the calculations this time, simply because I am so accustomed to going it alone – and so unaccustomed to factoring other voices, needs and constituencies into what I'm thinking.
It's more than a little helpful that I've come to know both Dave Peterson and his WU partner Bill Drakeley quite well through the years. Bill and I have collaborated on numerous articles through the years – processes through which he's won my respect and admiration – and I've sat through enough of his and Dave's classes that I have a sense of how their minds work and how significant their contributions to industry education have been.
We're a simpatico group, in other words, and if I have to consider other voices in setting a direction for WaterShapes, I couldn't have found any better as we move forward and collaborate in pushing industry education and communication to all-new, ever-higher levels in years to come.
***
This edition of the WaterShapes newsletter includes the 36th and final episode in Mike Farley's long-running 'What Is It?' video series.
The whole thing started back in 2012, when Mike approached me with a couple of videos he'd prepared to educate his clients and prospects about watershape features and details he found to be particularly significant – some familiar and others a bit unusual back then. But what I saw was something that worked another way: With his written commentary as introduction, what Mike was offering were sets of talking points that I thought would help large numbers of watershapers communicate more clearly – not just about the advantages or benefits of a given item, but also about some of the background and technical issues related to actual construction and upkeep of these details and features.
Mike's history with WaterShapes stretches back to early 2001, when he co-authored a feature article on the dynamics of site-specific design. But he truly became part of the team a few months later, when in July 2001 he contributed the first of his book reviews to the magazine. He never faltered in the assignment, reviewing hundreds of titles in monthly columns up until we published our last printed magazine in July 2011.
As was true in his book choices and the candor of his reviews, Mike's work on 'What Is It?' has been well grounded, well considered and what I always saw as straight-shooting of the very highest order. Simply put, he's one of the most honest, earnest people I've ever met or had the pleasure to work with, and I thank him for his service to WaterShapes and watershaping from the bottom of my heart.
So thanks, Mike. Here's to our next collaboration!