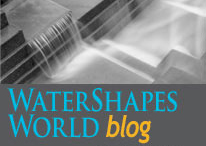 By Jim McCloskey
I'm still smiling.
As I've declared in a few recent blogs, my hope has been that the apparent conflict between Genesis 3 and Artistic Resources & Training (ART) would result in two high-caliber education providers emerging in place of one that was drifting.
If the first classes conducted by ART are any indication – and given my faith that Dave Peterson and the folks at Genesis 3 are kicking their program up a notch – then we are well on the way to establishing systems that will propel education in the art and science of watershaping forward on a national if not global scale.
Yes, there were hiccups in the ART classes, which were held at Pebble Technology's headquarters in Scottsdale, Ariz., on May 19 and 20. It was clear, for example, that this was a shakedown cruise for ART founder Mark Holden and instructors Shawn Still, Shawn Hayes and David Tisherman in getting accustomed to the facility and its layout. It was also clear that this was the first time these classes had been offered and that the instructors were to some extent figuring out their students and feeling their ways through the material.
But these quirks show themselves the first time any class is given on any level, and I easily see the potential in both of ART's eight-hour courses – one on the coloring of cementitious finish materials and the other on advanced watershape design. I trust that good starts will lead to much better results as time passes.
As it was, the plaster-coloring class was grandly eye-opening. Shawn Still (who was interviewed on the subject for this newsletter's April 25 edition) started it off with a detailed presentation on the nature of plaster, highlighting the differences between the materials supplied by various manufacturers. He then instructed designers and builders on the value of being assertive and digging for details when it comes to working with their subcontractors in the selection and amendment of finish materials.
This set the stage for Shawn Hayes' mind-boggling discussion of plaster's ability to take on a broad spectrum of colors – hues going so far beyond white, light gray, dark gray and black that cementitious finish materials can and should be regarded much more highly as a design feature. (One caveat: Knowledge of the raw materials that go into the plaster mix before the pigments are added is crucial to consistency of results and success in giving clients what they want and expect.) Hayes' presentation was fun, plain and simple.
The advanced design class was similarly valuable, with instructor David Tisherman taking the information about materials selection and color from the previous day's class and showing its direct application in design development and presentation. David has never been shy about showing off his work, and in this context the color-drenched project he put on display helped bring the weekend's instruction full circle. Bottom line: Color matters, and knowing how pigments function in cementitious finishes is the key.
I am certain that Mark and the two Shawns will put their heads together and polish the approach before the plaster-coloring class is offered for a second time in late September 2012, again at Pebble Technology's offices in Scottsdale. The more integrated their thought processes become, the better the course will be.
I went into the weekend wondering if Mark and his associates could clearly define what they seek to accomplish. I think they succeeded and that the bar has been raised. And if I have any clear sense of what Dave Peterson is after with Genesis 3's programs, this is all going to engage the industry in progressive watershaping education on a level never before attained.
There's a cool swagger to what's taking place that really impresses me. So yes, I'm still smiling – but now I want more.
What are your thoughts about recent events on the watershaping-education front? Is Jim's optimism well-founded? Or do you see reasons to wait and see? Please share your thoughts below.