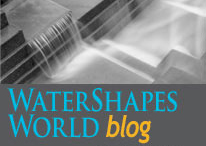 Always trying to look on the bright side, Eric Herman offers a set of watershaping achievements from the past year worth noting. While such bright spots will never erase the memories of such a tough year, he points that even in the darkest times, the beauty of watershaping shines through.
By Eric Herman
As we say so long to 2020, there were some notable achievements worth remembering, things that seemed to fly by mostly unnoticed in a year defined by mostly tumultuous bad news. But even in a year that will live in infamy, there were some reasons to take note and maybe even smile a little.
[] Back on October 22, The Palm Fountain debuted with the distinction of being the largest fountain ever built. Located in Dubai, U.A.E., at
The Point on Palm Jumeirah (one of the famous man-made Palm Islands), the fountain is spread over a 14,000-square-foot display lake. The massive system features 7,500 nozzles, including 128 "super shooters" that can reach height of 350 feet, and 3,000 LED lights.
The fountain puts on a show each afternoon and every 30 minutes in the evening, with its thousands of colorful changing lighting effects, dozens of projectors and at its most dramatic, over 22,000 gallons of water in the air at any one time.
The Fountain was commissioned by EMAAR Properties, developers of numerous downtown Dubai properties. Renown fountain designer, Los Angeles-based WET was charged with bringing the fountain to fruition.
"We like to build things exciting and state of the art and fast and wet," president of WET Mark Fuller told CNN. "(People) are always surprised at the amount of technology we have hidden behind the scenes. Beneath those ripples and waves there's very often millions and millions of dollars and kilojoules of energy . . . and then in the room beneath the room filled with all the water are cavernous control rooms."
[] The world's deepest pool, fittingly named Deepspot, opened in November in the town of Mszczonow, Poland, 30 miles south of Warsaw. With a depth of over 45 meters (around 148 feet) Deepspot is claimed to be the world's deepest man-made swimming pool,
Designed as a training facility for divers of all skill levels, the massive vessel cost an estimated $10.6 million and took two years to Deepspot includes a simulated "blue hole" that extends downward to its deepest point, and a small shipwreck, artificial underwater caves, and Mayan ruins for divers to explore. There's also an underwater spectator tunnel. An onsite hotel features "rooms with a view" at a depth of five meters.
[] Marking a completely different, but no less significant, type of industry milestone, on Oct. 7, Pool Corporation (Pool Corp), the world's largest wholesale distributor of pool equipment and supplies, was added to the S&P 500. The company's ascension is a quantifiable indicator of the surging pool market.
As reported in Investors Business Daily, Pool Corp's earnings dramatically accelerated throughout the calendar year with year-over-year quarterly EPS (earnings per share) growth of 3%, 20%, 23% and a cosmic 47%.
* * *
This past year will, indeed, be remembered for many things, most of them negative. Still, it doesn't hurt to balance out the history with these upbeat footnotes.