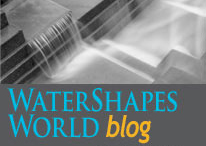 By Jim McCloskey
A couple weeks back, I was figuring that my time at the 2015 edition of the International Pool|Spa|Patio Expo would be quite routine – visiting with old friends, making a few new ones, catching up with our sponsors and recruiting several more.
But those easy expectations all changed shortly before the show when the announcement came, first through the National Swimming Pool Foundation then from a number of other sources, that NSPF had entered into a merger agreement with Genesis.
On the surface, the mingling of these entities is a curiosity: The two groups seemingly have little in common and serve wholly different markets, with NSPF focused on research related to aquatic activity in commercial and institutional pools and spas and on the training and certification of the operators of those vessels. For its part, Genesis works mainly on the residential pool/spa side of the market, working to educate and elevate designers, engineers and builders and others who serve the market for custom watershapes.
From the perspective of rank-and-file Genesis members, an array of key questions immediately surfaced: Will the sense of family and community be sustained? Will the ongoing, prominent roles of instructors and volunteers be preserved? Will the fun that has been so much a part of the way Genesis emerged and has prospered work alongside the inclinations of NSPF, which seems quite businesslike? Urgent as the show opened, those questions didn't seem quite so pressing at the end.
Practicalities and organizational details aside, the glory of this new arrangement is the fact that Genesis has found an organizational path that reaches beyond its founders and the group of core supporters who've helped drive the group to success thus far. Brian Van Bower and his Genesis partner, Skip Phillips, have clearly looked down the road, and it makes sense to align with an institution that's been around and independent for many years; has been through its own share of major changes; and has the kind of momentum that will keep it going well into the future.
Better yet, NSPF is an organization that is focused, as is Genesis, on education and on building skills that improve participants' ability to please their clients. While there are no overlaps between the two entities with respect to the markets they serve or the people who participate within the organizations, there is this common, serious dedication to primary and continuing education for all participants – a significant plus.
I offer my congratulations all around, first to Brian and Skip for forging an alliance that will help perpetuate the mission Genesis has been developed to share not only with the pool/spa industry, but with the entire watershaping community and those who've responded to the organization's commitments to raising the bar and pursuing excellence and customer delight. For his part, NSPF's Tom Lachoki wins kudos for having the nerve to jump way outside the box and embrace an opportunity to partner with Genesis in shaping a long, bright future.
These are all smart guys, and I think they've done a good thing.