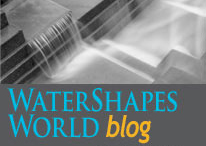 By Jim McCloskey
I've spent a lot of time being happy in the past couple weeks.
On the personal side, my wife and I recently welcomed our first grandchild into the family, cradling our oldest daughter's baby in our arms hours after her birth and flashing back to doing the same with each of our three girls when they, too, emerged freshly into the world.
I had no idea what this experience would be like, and all I can say is that it's pretty great. Yep, pretty great.
On the professional side, I welcomed what I consider to be long-overdue, popular-culture recognition of watershaping as a worthy technical pursuit courtesy of "The Big Brain Theory," a new television series that premiered May 1 on Discovery. Hosted by Kal Penn, a Hollywood star with ultra-hip appeal and credentials, the show is built to a goodly extent around the engineering chops embodied by WET Design, long a cutting-edge driver of fountain technology and, truth be told, an outfit with its own measure of ultra-hip appeal.
(If the fountain array at Bellagio in Las Vegas isn't persuasive enough in that respect, I suggest you visit the corporate web site at www.wetdesign.com and get lost in the vast number of projects they've competed in the past 30 years. Some of them are familiar – the Columbus Circle fountain in Manhattan, for example – but others range far afield geographically, technologically and aesthetically. )
At no point in my life around watershaping would I ever have thought that the grand prize in an intense engineering competition pursued by rocket scientists, fabrication geniuses, product designers and all-around very smart people would be a job in a watershaping company, but that's precisely what this show is about, with the eventual winner to take home $50,000 and land a one-year staff appointment in WET Design's operation in Sun Valley, Calif.
I've seen three episodes so far, with each featuring a complex engineering challenge the contestants must solve (usually, it seems, with mixed results). The show is not about water per se; instead, it's about problem-solving, teamwork, ingenuity and speed. Still, I'm impressed and continue to be happy that watershaping is somehow involved in a series that stands a chance of lasting for many seasons and competitions to come. (I'm also thinking/hoping/praying that a challenge or two down the road will involve contestants working directly with water on some level. That just has to happen, right?)
Congratulations to WET Design President and CEO Mark Fuller for being involved as one of the competition's permanent judges. The credibility that flows from this sort of exposure will doubtless help his own company, but I like to think that there are young engineers all over the country who might start to think that working with water is distinctly cool – and that will be a help to watershapers, one and all.