Articles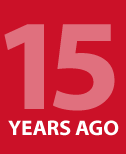 By David Tisherman
'In one way or another,' declared David Tisherman in his Details column of June 2002, 'visual acceptance is what makes our world go around.
'Think about the clothes we wear, the cars we admire, the foods we eat – not to mention interior design, home and office furnishings, landscapes and watershapes. So much of our response to these and other features of our environment,' he added, 'is based on the visual. It may sometimes be a shallow response, but human beings tend to like things that look good, even if they don't completely understand why some things are visually appealing and others are not.' He continued:
***
'Design education teaches us that visual acceptance is based on a variety of factors, including setting, context, scale, balance, color, texture, line, shadow, proportion and more. You can't take a pill to learn how to use these factors to your advantage: You need to get educated to do so.'
***
'I think this "education gap" has had a profoundly negative effect on the watershaping trades that starts with the products we use and reaches all the way through to how those products are applied in the field as part of watershape designs. What we see are clunky products, hideous color combinations, mismatched textures and much worse – all of them wrapped up in ugly designs.'
***
'For whatever reason, the pool industry has focused on functionality to the detriment of design to an extent that exceeds anything I've observed in other industries. There are some exceptions, of course, but as a whole our suppliers have moved forward without paying much (if any) attention to the aesthetics and visual qualities of their products.'
***
'It's time for the industry to step up – and more and more people in the watershaping trades are ready to demand a change, including trained designers from the ranks of landscape architects and others in the pool industry who are getting design educations that put them in a position to help find solutions. In other words, a process has started – and it's gaining momentum each day.'
***
'I want to reshape the world overnight, and it's difficult for me to accept a slower pace. That's why I keep writing about design education and my idea that making it more readily available will be a benefit to our industry: Beyond increased consumer satisfaction and greater profitability for our businesses, I see an elevated image for watershapers as an even greater up-side potential.'
***
'The time is coming when the watershaping world at all levels will be driven by design. Whether it's a manufacturer deciding how a pump relates to a filter and a heater in visual terms as well as in functional terms or a builder starting to look for new ways of assembling the components of a project or a new generation of clients who've grown up thinking that good design is as essential for their watershapes as it is for their automobiles or home furnishings, a time is coming when our success will be determined as much by visual acceptance as it is now by functional performance.'
***
'To my mind,' Tisherman concluded, 'as long as there are open-minded manufacturers and watershapers who are willing to invest in developing their skills and take a step up to the next level, there really is hope for a better future.'
Much has happened in the ten years since Tisherman wrote this column. Do you see progress toward his goals of better product design and more educated watershape designers? Or have things continued on the same old path? To share your thoughts, please comment below.


David Tisherman is the principal in two design/construction firms: David Tisherman's Visuals of Manhattan Beach, Calif., and Liquid Design of Cherry Hill, N.J. He can be reached at This email address is being protected from spambots. You need JavaScript enabled to view it. . He is also an instructor for Artistic Resources & Training (ART); for information on ART's classes, visit www.theartofwater.com.