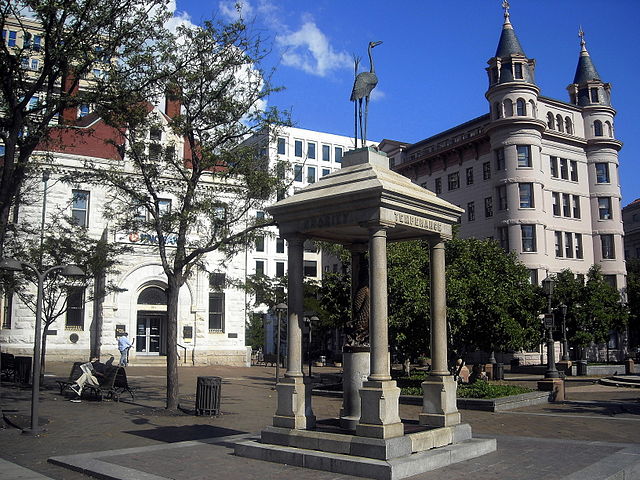 By Jim McCloskey
Once while visiting our nation's capital, I walked past an odd-looking fountain that really didn't make much of an impression at the time. Silly me, because of all the fountains and other watershapes I've seen, this one turns out to have one of the most weirdly interesting stories I've ever encountered.
This isn't one of the display fountains that are so common around the district; rather, it's a drinking-water fountain donated to the city of Washington, D.C., in 1882 by Henry Cogswell, a San Francisco dentist and national temperance crusader who believed that access to fresh, cold drinking water would lure the casual tippler away from the temptations of the city's many saloons.
The Women's Christian Temperance Union backed a similar campaign, but where that organization's drinking fountains were on the plain side, Cogswell had grander aesthetic ambitions and aimed at installing one of his elaborate, self-designed drinking fountains for every 100 saloons in cities across the country. His saw the fountains' simple engraved messages of faith, hope, charity and temperance as the linchpin of a nationwide campaign to encourage abstinence.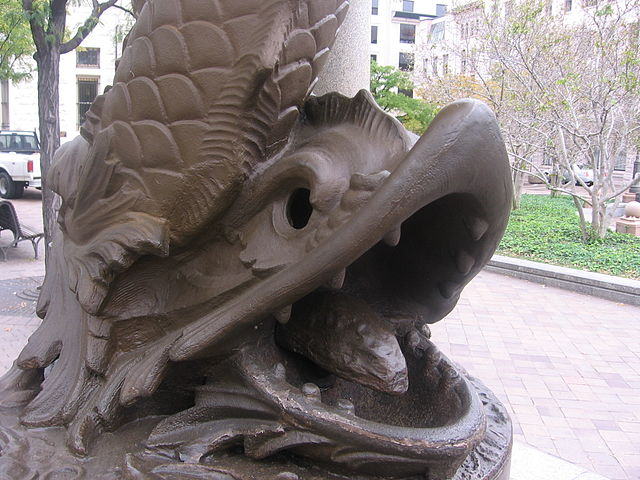 There were a couple problems: First, even in 1882 the total number of saloons across the country was overwhelming; second, Henry's fountains leaned toward the ornate side, with water issuing from the mouths of scaly dolphins. Then there was the fact that cooling the water meant stocking the basin with blocks of ice on a steady basis – a maintenance nightmare that cities overcame by disconnecting the supply pipes.
Dry fountains don't offer much comfort or satisfaction to anyone, which may explain why Washington's Temperance Fountain has been moved on a few occasions – shifting from its original, prominent position on Pennsylvania Avenue to the far-less-prestigious placement on Indiana Avenue near the National Archives. (That's where I happened upon it early in the 1990s.)
It's interesting to note that the aesthetic undesirability of Cogswell's fountains is said to be single-handedly responsible for the emergence of civic arts committees that are charged with reviewing and approving applications for the installation of monuments in cities across the country. I hope that's not entirely true, mainly because I see these fountains as hearkening back to the days when all public drinking water came, for good or ill, from sources such as these.
So while Cogswell's Temperance Fountains may be as homely as mud fences, they're also keenly interesting from historic and cultural perspectives – which makes me glad that the one in Washington at least is on the National Register and will be with us for years to come. Examples can also still be found in New York City, Pawtucket, R.I., and Rockville, Conn. Alas, they were built but have been torn down elsewhere, including Buffalo and Rochester in New York, Boston and Fall River, Mass., and in San Francisco, San Jose and Pacific Grove, Calif.
The saloons may have won the day, but to me, I'll always have a place in my heart for Cogswell and his weird, well-intentioned fountains.