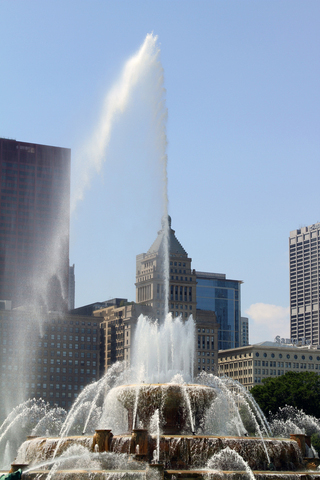 By Jim McCloskey
My family moved away from Chicago when I was just four years old, but I have three vivid, very specific memories of the place: icicles hanging from the eaves of our home in Evanston; the long freight trains that ran constantly on tracks at the far edge of the open field across the street; and Buckingham Fountain in downtown Chicago's Grant Park.
When I returned to the Windy City on business in the early 1980s (several years before I became directly involved with watershaping), it wasn't to Evanston I went; instead, once I'd checked into my hotel on that bright spring day, I made a beeline to the fountain and was amazed to see how much smaller it seemed to me than it had when I was a kid.
Of course, that was a trick of childhood perception, because Buckingham Fountain is truly impressive in size, scale and scope. Built in 1927, it is still one of the biggest fountains in the world.
Designed by beaux arts architect Edward H. Bennett with statues crafted by French sculptor Marcel F. Loyau, the fountain was inspired by the famed Latona Fountain at Versailles, but there's something much more down-to-earth about Chicago's version compared to its gold-bedecked, Rococo-style predecessor.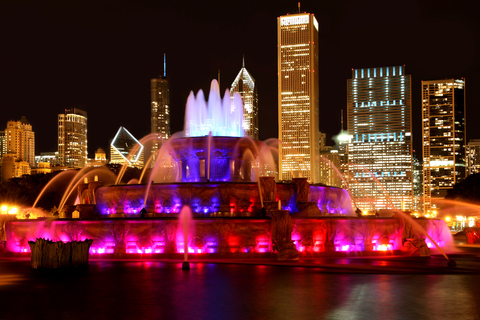 The 280-foot-diameter system contains 1.5 million gallons and moves it at a rate of 14,000 gallons per minute through 193 jets. As one of the videos linked below reports, the vast valve array was originally controlled manually. The first-generation automatic control was via a Honeywell computer located in far-away Atlanta, but a 1994 renovation saw the controls moved to a nearby suburb.
If you ever are in Chicago between mid-April and mid-October, there are 20-minute water shows every hour on the hour, and I particularly recommend an evening visit to take in the light show that enhances a wonderfully voluminous display.
For a quick look at the fountain in action, click here
For a behind the scenes look at what makes the fountain tick, click here