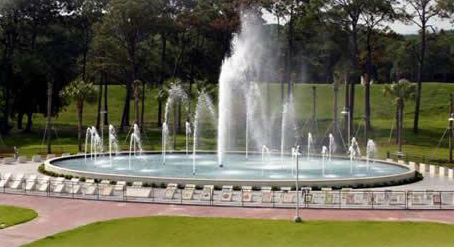 By Jim McCloskey
The watershape was way off any path I'd ever beaten around New Orleans: It sits north of downtown along the shores of Lake Pontchartrain, and I was genuinely surprised to make its acquaintance.
This was back in November 2016, when my wife and I were heading with my brother and his wife to their home in Mississippi after my work at International Pool|Spa|Patio Expo drew to a close. We rolled up West End Boulevard to where it turned into Lakeshore Drive, figuring we'd move along the waterfront until we could conveniently jump over to Interstate 10 and leave the Crescent City behind.
But soon after we made the right-hand turn along the water, I spotted a fountain and made us stop: We'd essentially tripped over the Mardi Gras Fountain, which I'd never heard of before, and paused briefly to give it a look.
It reminded me immediately of the fountain in the Plaza de España (click here), which I'd seen many times through the years while walking along the Mississippi River toward the convention center. Both installations feature lots of tile plaques, but I found those associated with the Mardi Gras Fountain to be much more interesting because they colorfully memorialize the various carnival krewes that participate in local parades and various other Mardi Gras festivities.
I was a big fan of the HBO series Treme and saw a unique part of New Orleans heritage coming to life before my eyes.
The fountain itself, however, wasn't all I might have hoped. Yes, the water danced with gusto, with clusters of jets sending water to various heights in a varied array of patterns. But if ever a themed fountain called for music, this one is it: While the jets conjured some of the visual magic of a New Orleans parade, without sound (other than the watery kind) it all fell a bit flat for me.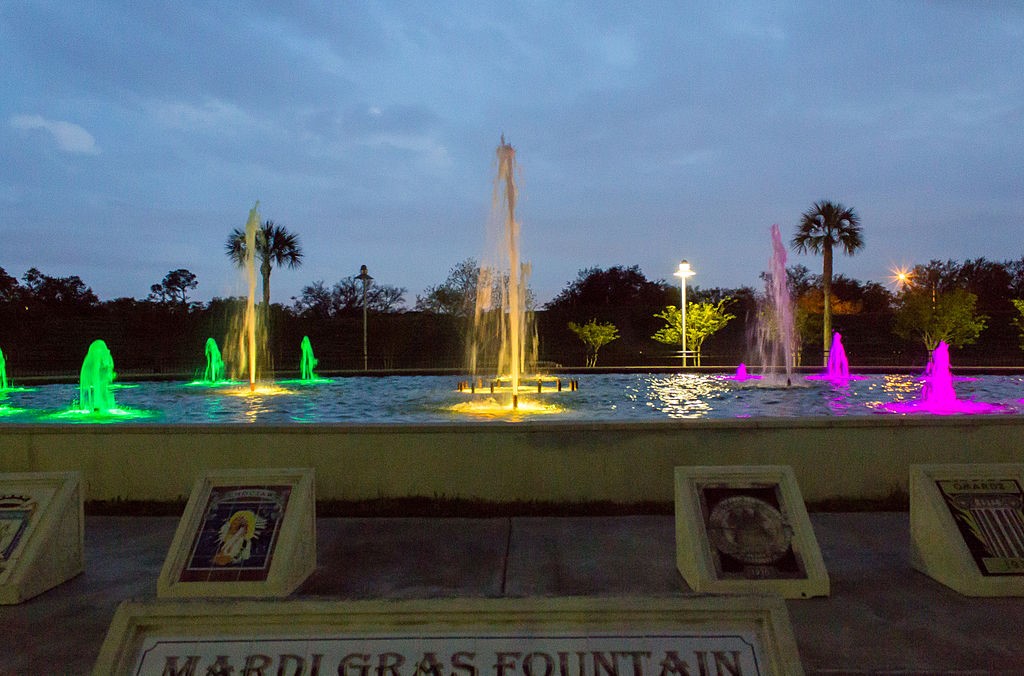 Since returning to California, I've read up on the Mardi Gras Fountain and have come to appreciate its unusual history. First dedicated in 1962, it was designed by Blaine Kern in association with a local architecture firm. Kern was no fountain guy: He was a Mardi Gras float designer who came back from a trip to Europe filled with impressions of great fountains and started a personal crusade to get one built in New Orleans.
The original fountain came in with a modest outlay of $42,000, including 70 tiled plaques set like teeth around the basin. The fountain shot water 30 feet into the air, and on warm summer evenings, all lit up, it drew substantial crowds to water shows. But by the 1990s, the watershape had fallen on hard times and was decommissioned.
In May 2005, the fountain was treated to a $2.5 million restoration, with new electrical and mechanical systems to go along with new paving and landscaping. Hurricane Katrina massively abused both the fountain and its park just a few months later, and it was 2013 before another hefty infusion of cash brought the space back to life with a new set of upgrades and a bunch of new tile plaques.
Knowing what I now know about the fountain and its story, I'm more inclined to be charitable about its musical shortcomings and accept it on its own considerable merits. It has its shortcomings, in other words, but I appreciate it for what it is – a wonderful, personal celebration of New Orleans' Mardi Gras heritage and generations of urban (and urbane) entertainment.
Bottom line: The fountain's fine. As for the plaques, they're cool beyond belief.
For a video of the fountain after dark, click here.