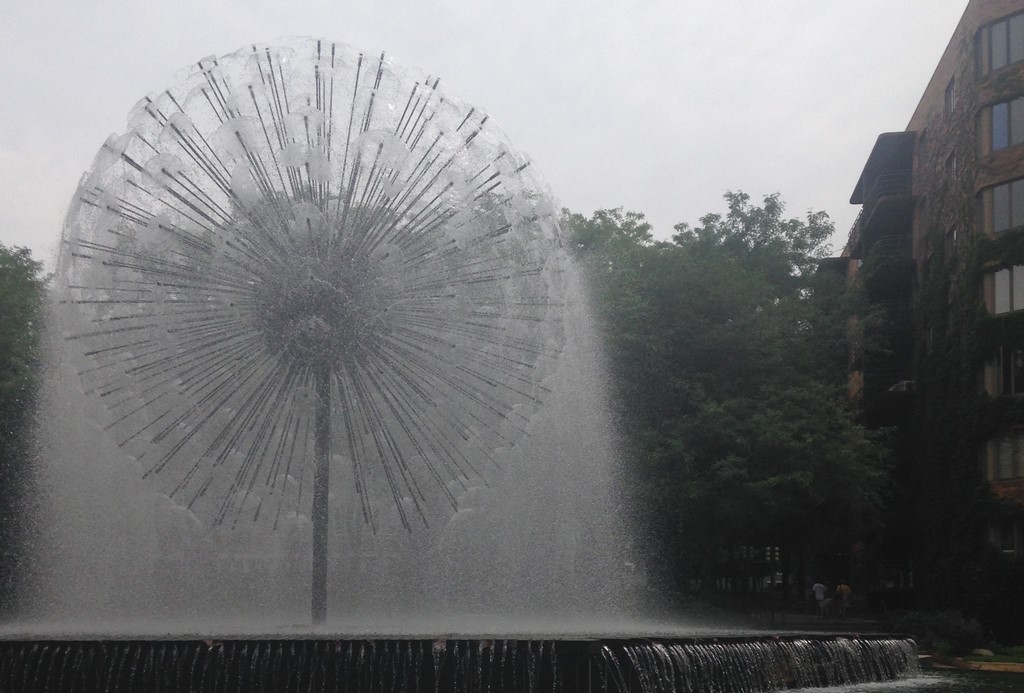 By Jim McCloskey
If you see it at the right time of year, Minneapolis is a wonderful place to visit.
When I lived in Oregon in the 1980s, many of the flights I took to the East Coast paused there, and on a couple occasions I found myself grounded at the Minneapolis-St. Paul International Airport in weather delays that gave me the opportunity to get away from the terminal for brief periods. These stops all occurred deep in winter, of course, so mostly I recall being miserably cold.
The place intrigued me, however, so I was happy some years later to attend a trade show there and took advantage of the gorgeous fall weather to walk around. Just a short hop from the convention center was Loring Park – the highlight of my wanderings and home to the Berger "Dandelion" Fountain, an extraordinary composition with quite a story behind it.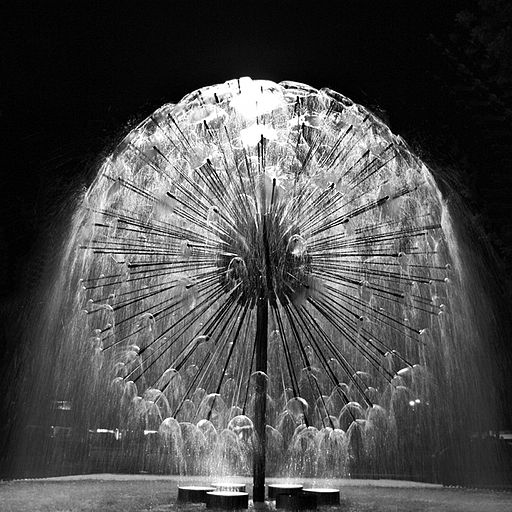 Benjamin Berger was a Polish immigrant who made good in his adopted hometown. He was 16 when he arrived in 1913 and was successful enough as a businessman that he later became a part-owner of the Minneapolis Lakers, who won six National Basketball Association titles during the 1950s before moving to Los Angeles a couple years after Berger sold his interest in the team. (Maybe he knew it'd be 15 years before the team would win another title.)
He owned restaurants and movie theaters and started programs that helped ex-convicts readjust to life outside prison – an all-around civic-minded, solid guy.
At some point in the 1960s, he made a trip to Australia and saw a fountain that knocked his socks off to such an extent that he just had to get one for Minneapolis. It was the El Alamein Memorial Fountain in Sydney (seen just above) – a sphere made up of circlets of water issuing from nozzles placed on the ends of long rods. It definitely captured Berger's imagination.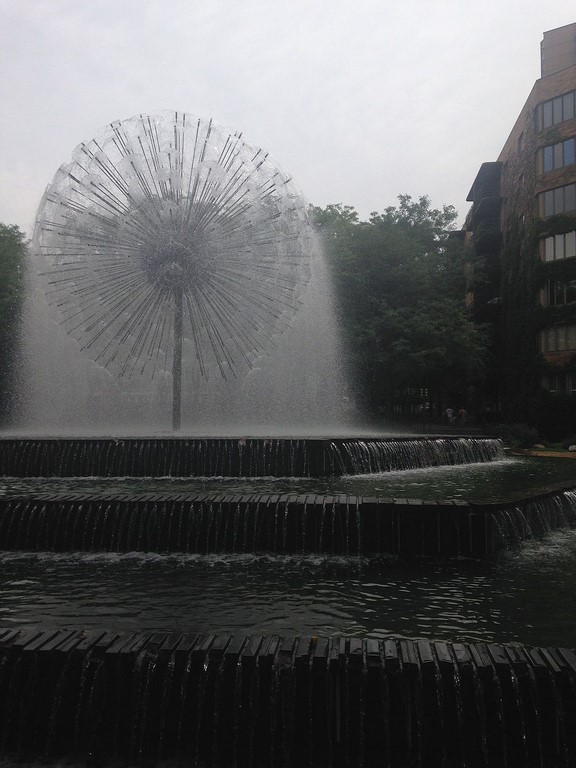 Returning home, he blanched when he learned what it would cost to reproduce the Syndey original and set the project aside. Then came his life's great windfall: In 1973, Berger's theaters were the only ones in town that had booked The Exorcist, and he made enough in box office and concession receipts from that one movie that the fountain project moved back onto the front burner.
He'd originally hoped to install his big dandelion near Minneapolis' famed Walker Art Center, but the curators there declined the offer because the work was a reproduction rather than an original. Undaunted, Berger, who was at that time a park commissioner, shifted his focus to Loring Park – and the rest is history.
Berger's Dandelion Fountain (seen at right) is in a great setting in a wonderful urban greenspace – well worth seeing the next time your travels take you to Minnesota in a time of fair weather.
I understand that the fountain is now in need of some restoration, which is no great surprise given such long service by all of those precision nozzles. So far as I can tell, no repair timetable has been set; if the city takes as much time to raise the necessary funds as Mr. Berger did in waiting for an unexpected box-office smash, it might be quite a while before the water goes off and the restoration begins.
Minneapolis has other cool fountains, too – well worth considering if you can get past memories of Linda Blair and her head-turning antics!
For a brief video of Berger's Dandelion Fountain in action, click here.