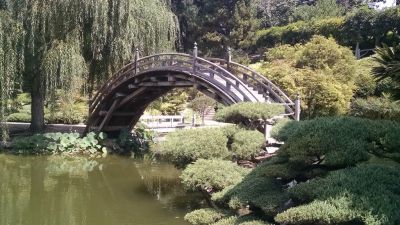 By Jim McCloskey
The Japanese Garden at the Huntington Library, Art Collection and Botanical Gardens has a huge advantage over its neighbor, the Chinese Garden: It's been there about 100 years longer.
As was discussed two months back (click here), the Chinese Garden was first opened at the grand estate in San Marino, Calif., in 2008 and saw a major revision as recently as 2014. By comparison, the nine-acre Japanese Garden was completed in 1912 and was clearly a passionate interest of Henry Huntington as he began developing his estate's greenscapes. He'd purchased the property, a 600-acre spread called San Marino, in 1892, and took up residence there full time after moving to Los Angeles in 1902.
By 1910, he had retired at age 60 and began the steady process of spending some of his vast fortune on building his book and art collections. Happily, he also started paying ample attention to his physical surroundings, turning 120 acres over to artisans and gardeners and pursuing the Japanese Garden as one of his earliest priorities.
His fascination with that garden style had been formed not by visits to Kyoto, but rather by trend-setting Japanese gardens set up at expositions and world's fairs in Chicago (1893), St. Louis (1904) and San Francisco (1915). There was a bit of opportunism here, too: Huntington purchased a number of suitable plants, fixtures and even structures from a property in nearby Pasadena that had failed as a Japanese-themed business venture. But he wasn't satisfied: He also brought in many new, custom-built features – including the garden's exquisite Moon Bridge, built by master Japanese craftsman Toichiro Kawai.
Having the Chinese Garden nearby makes it possible to see the distinctions inherent in the two styles with relative ease. Where the structures in the Chinese Garden are mostly right on the water with the surrounding trees forming something of a fortified wall, for example, the Japanese Garden is about longer views, with structures pushed back from the water's edge to offer broad prospects on rolling terrain marked by water, trees and ornamental fixtures. Much is hidden to await visitors around the next turn here – a distinct contrast to the open views across the Chinese Garden.
Both spaces, however, share a desire to encourage visitors to wander along their winding pathways. For me, there's more fun to be had on a walk through the Japanese Garden – elements of surprise augmented by smile-inducing visual rewards, simply for putting one foot in front of the other.
It's interesting to recall that the U.S. public's fondness for things Japanese was derailed by World War II and that even this sublime garden space fell into a state of disrepair during and after the conflict. Those negative sentiments faded in the 1950s, thank goodness, and the space benefitted from renewed interest and support. Better still, a 2011 restoration project brought the water systems up to date and increased the reach of pathways – essential steps in making the garden even more inviting.
That invitation is something I've enjoyed ever since I first visited the Huntington as a child. I was certainly more energetic then, and far less convinced of the appeal of quietude and tranquility. (Getting older can be difficult, but it is calming!) As I look back on all of those walks through the Japanese Garden during the past 50-odd years, I enjoy observing that even though my own responses to this cherished space have changed and matured, the garden itself has consistently been timeless, otherworldly and irreducibly beautiful.
There aren't too many places you can go to see Chinese and Japanese gardens back to back. On occasion since the Chinese Garden opened, I have been moved to visit one and bypass the other, probably because my purposes on those days were more meditative than comparative. Most times, however, I visit both gardens, happy to ponder their similarities and distinctions and find what contentment I can in wandering their soothing expanses.
Do not hesitate to visit: The Huntington is bucket-list material, too cool a place to miss!