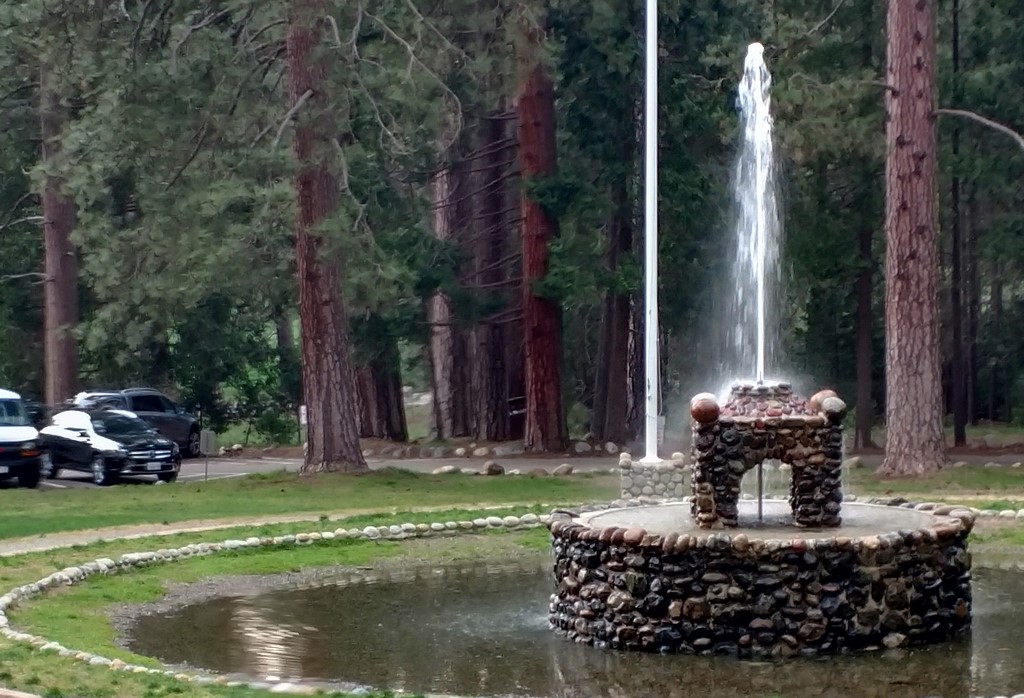 By Jim McCloskey
Years ago, my wife and I made a pact that we'd do our best to visit Yosemite National Park at least every other year.
With a couple exceptions – including a four-year gap since our last visit in 2013 – we've met that commitment. We took our three girls on the first several trips; we've gone by ourselves once or twice since our nest emptied, but we generally try to persuade
friends or family to join us because it's the kind of experience you want to share.
I'm not a camper, and in all the times I've been to Yosemite, I've spent just a single night under a tent. Our usual choice for accommodations is the Wawona. (Oops, sorry: It's now the "Big Trees Lodge" as part of that ridiculous trademark dispute between the government and a former concessionaire.) As hotels go, it's nearly as austere as a campsite, but its beds are much kinder to my back than is sleeping on the cold, hard ground.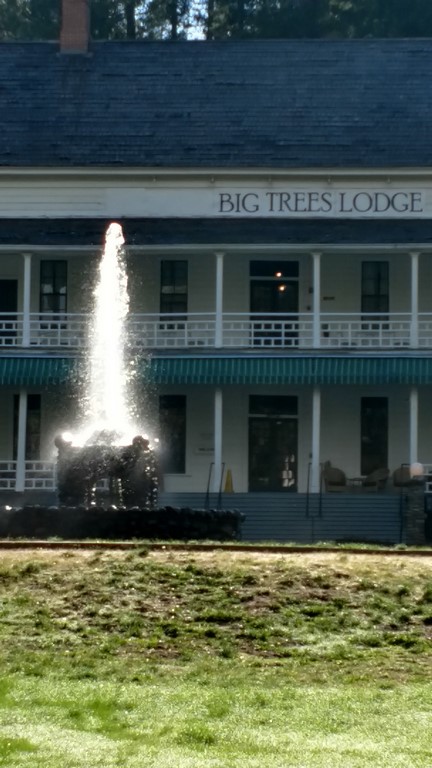 The Wawona was built in 1876 and gracefully shows its age with sloping decks, thin walls and communal washrooms. When we first stayed there many years ago, it was in early April during Spring Break and we had a family snowball fight on a big patch of lawn in front of the hotel.
Right next to that expanse was a large, circular driveway that had a fountain structure at its heart. It wasn't functioning, and I figured it was a seasonal thing because it was still so cold, especially at night.
But the next time we visited the Wawona, it was during the summer of 2009 – and still no flowing fountain. I asked about it at the front desk and learned that it hadn't been in working condition for many years. There were plans to fix it, of course, but no schedule for actually getting it done.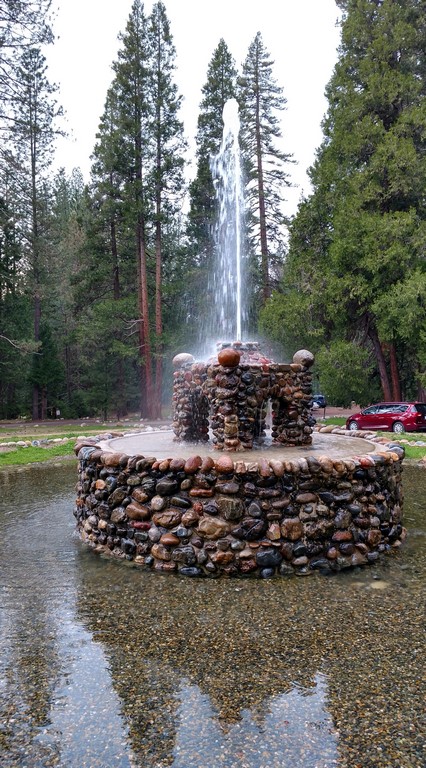 When we arrived for our 2017 visit – another April Spring Break – our room at the Wawona was on the second floor, overlooking the traffic circle. It had been raining when we checked in, so in approaching the hotel we hadn't noticed that the fountain was working again. Utterly charming: A good sound we could hear in our room, and an even better visual treat as we sat out on the deck with glasses of wine when the rain let up and the sun came out.
The fountain, which returned to service in October 2011, has a distinctly primitive, hand-crafted, national-park-style look, a collection of river rocks mortared in place with a single spout of water rising 15 or 20 feet above the nozzle. Humble and utterly appropriate for the setting, it's well worth a look even if all you do is cruise along the hotel's driveway before scurrying off to the valley.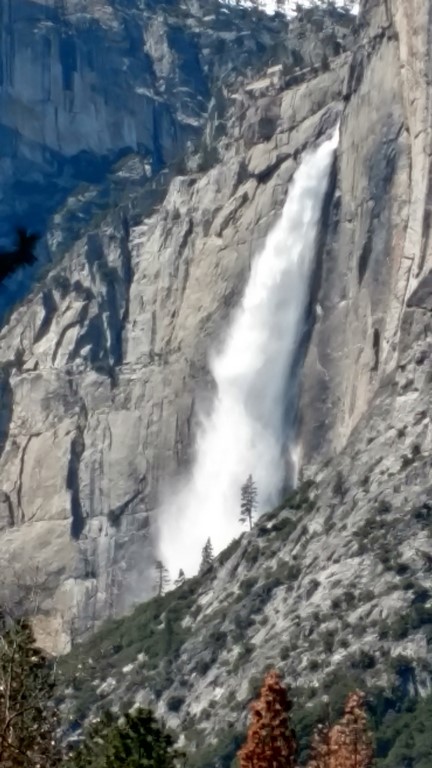 And by the way, all of Yosemite Valley (which was the only part of the park that was open and accessible after a winter of record snowfall) was boundlessly glorious while we were there this year: We encountered more water than we've ever seen, with odd waterfalls in view in places they don't often flow and the main, familiar waterfalls roaring with unanticipated force.
Couldn't resist including this image of Yosemite Falls, roaring as I'd never seen it before. Note the dead trees in the foreground: They're everywhere in the park and tell a sad tale of drought and opportunistic beetles.
The drought has been cruel to Yosemite, and not just because of the massive fires that have swept through parts of the park. The lack of rain has also made the trees susceptible to bark beetle infestations, and the otherwise green groves are striped with orange-colored trees that just couldn't hold out.
Here's hoping that these rains herald a year of spectacular recovery for the Yosemite ecosystem and that several more wet winters are to follow!