By Jim McCloskey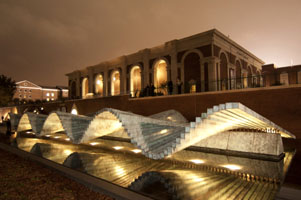 So far in my Travelogues, I have always reported on watershapes I've seen with my own eyes – but every rule needs its exceptions, and this is one of those cases.
Many years ago, I became aware of Santiago Calatrava's extraordinary bridges – structures so far removed from historical precedent and any sense of the ordinary that they helped me see that creativity really could be decoupled from the past and set free, moving even bridges beyond the typically rigid confines of architecture and engineering.
The other day, I came across a press release from Southern Methodist University about a special exhibition called "Calatrava and SMU: A Decade in Motion" that opened this past weekend and will run through April 22, 2012.
It's a celebration of a great architect and sculptor, but it's also the anniversary of the 2002 installation of Calatrava's "Wave" in front of the Meadows Museum on the SMU campus.
There's nothing I can write here that adequately expresses the simple, beautiful elegance of the fountain/sculpture in question, so please click here to see a video in which the Meadows Museum's director discusses the installation's graceful harmony in detail.