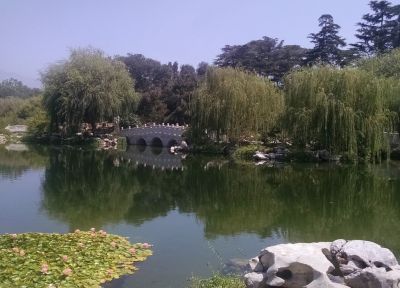 By Jim McCloskey

I recently enjoyed my umpteenth visit to the Huntington Library, Art Collection and Botanical Gardens. It's an amazing estate in the city of San Marino, Calif., a well-heeled enclave near Pasadena, and was established by Henry Huntington, nephew and heir to transcontinental-railroad magnate Collis Huntington. This is a place that shows you what a serious fortune could buy in the early years of the 20th Century.

I like the library and appreciate the art collection, but the reason I keep going back is the gardens: Winter, spring, summer and fall, they are simply fantastic.
As Mr. Huntington clearly recognized, there are several advantages to living in southern California, many of them having to do with our beloved and wonderfully temperate Mediterranean climate. With a bit of coaxing, just about anything will grow here – a point in evidence in San Marino and supported by the large number of distinguished botanical gardens found throughout the region, from the coast at Santa Barbara to the desert of Palm Springs.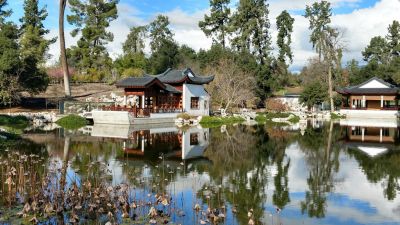 Opened to the public in 1928 and draped over 120 acres divided into variously themed sections, the Huntington's gardens include desert, rose and palm collections that frequently capture my fancy. But the spaces guaranteed to rivet my attention every time I visit are the paired Asian gardens – one Chinese, the other Japanese. Positioned within easy walking distance of each other, they have so much going for them that I'll discuss them separately – the Chinese garden this time, the Japanese garden next month.
The startling fact about the Chinese garden – or "The Garden of Flowing Fragrance," as it is formally known – is that it's a relative newcomer, dedicated only in 2008 with added features that opened to the public as recently as 2014. It's all so languid and "settled" that it seems to have been around much longer than that.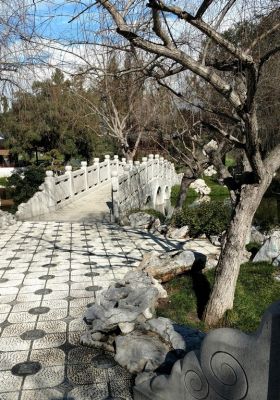 One of the many cool things about the space is that developing it involved an obviously successful collaboration between architects and artisans brought over from Suzhou, China – a city famous for its gardens – and the Huntington's team of local gardeners and builders.
Many of the trees and some of the plants are California natives, but they're used in complete and effortless harmony with their exotic and gorgeously flowered counterparts.

Within a green perimeter wall of long-established trees, the Chinese Garden covers 12 acres and includes a large lake, lovely bridges and several beautiful structures placed right at or cantilevered just over the water's edge. It's all in keeping with the sorts of direct visual and physical interaction that characterize gardens of this form – a unique and powerful juxtaposition of natural and built environments.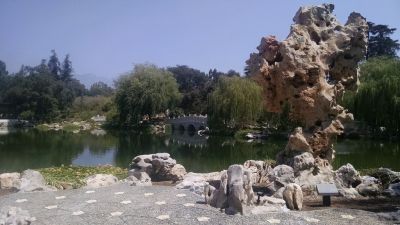 It's wonderful that the design team was able to rustle up an ample quantity of large stones from China's Lake Tai: Their phantasmagorical shapes and textures bring a tremendous level of authenticity to the overall composition, and they've been placed strategically around the site so that they're never too far from view. Water is a second core component along with the stones – a yin/yang relationship of the ever-changing and the eternal.
Since the Chinese garden first opened, I have invariably enjoyed walking around its lake on the elaborately patterned pavements: They encourage movement throughout the entire space just to see what comes next – an awesome way to get a bit of exercise in an ethereal, endlessly compelling space.

Whether you're there solo or as a couple or as part of a group, it's a composition that challenges you to think about space, object relationships and garden organization in generally unfamiliar ways. That, I think, is the ultimate value of a nice, long visit to this particular garden, especially when the flowers are in bloom and the fragrances flow as the designers intended.

Next time, a look at the Huntington's similarly transcendent Japanese garden.