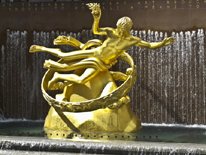 By Jim McCloskey
I first visited New York City back in 1978, stopping to visit my sister (who lived there at the time) when I was on my way to Europe for a grand backpacking adventure.
I had just a few days to look around, and she ran me ragged through museums and stores and up and down the Empire State Building. One hectic afternoon, we stopped by Rockefeller Center, where I was transfixed by the iconic Prometheus Fountain in the sunken plaza at 30 Rock – but I wasn't allowed to linger because we needed to whisk our way uptown to try to reach The Cloisters before it closed. (We didn't make it.)
I've been back to New York many times since, and although I have still yet to make it to The Cloisters when it is actually open, I always manage to get to Rockefeller Plaza to see Paul Manship's bronze of the titan Prometheus bringing fire to mankind. It's said that the artist wasn't particularly pleased with the gilded result of his endeavors, but nonetheless Prometheus ranks among the most recognized of all statues in the United States, right up there with the Lincoln Memorial, the Statue of Liberty and Mount Rushmore.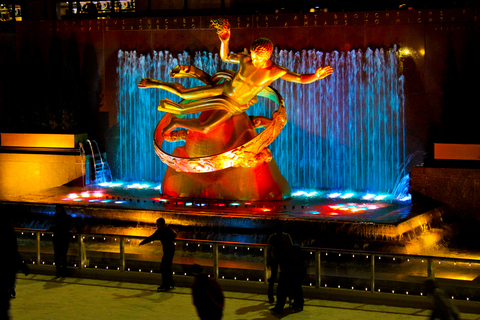 There's something about the composition that's just perfectly appropriate – the sweeping form of the recumbent titan and the way it contrasts with the rigid linear symmetry of the building behind it; the sound of the water in the fountain and the way it quells the city's immense well of noise; and the fact that everyone who walks by, no matter how preoccupied, can't help shooting a glance at the composition. I like the statue, but I love the space.
I have never been to the city during the holiday season, when the famous ice-skating rink operates in front of the fountain and a Christmas tree towers above the scene, but that time will come and I'll enjoy it all over again with all the wonder I felt nearly 35 years ago. It's a treasure and well worth a visit the next time you're in New York.
Video: To see and hear the fountain and learn a bit of the story behind it, click here.