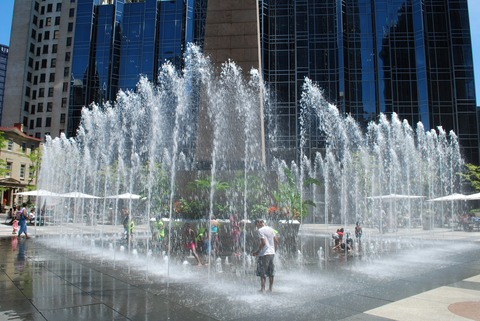 By Jim McCloskey

It's not a story I tell very often, but my wife and I spent our honeymoon not in Hawaii, not in Paris, not even at Niagara Falls. No, instead we went to Pittsburgh.

We'd scheduled our wedding for August dates without consulting my eastern relations, the principle among them my Aunt Genevieve, my own family's matriarch and in all ways a formidable woman. As it turned out, she'd scheduled (without, I might add, consulting us) a family reunion to commence the weekend after our wedding.

As she would be in the throes of planning for her event, she would be unable to attend ours but suggested in the strongest terms that Judy and I would be attending hers. So instead of a romantic getaway, we drove from California to Oregon with Judy's stuff and our wedding gifts, unpacked, enjoyed a quiet day or two, then boarded a plane for Pennsylvania.

Instead of solitude, we saw cousins, aunts, uncles and a selection of my siblings. It was all very weird, but we had a good time just the same.

One of the highlights of the trip was a unique bus tour of Pittsburgh narrated by my aunt, who sat in the front seat of the bus and told us what was coming up. Of course, most of what she described were things that hadn't been there for many, many years – and by the time those of us in the back of the bus could see what she had talked about previously, she was animatedly describing other things that were no longer there.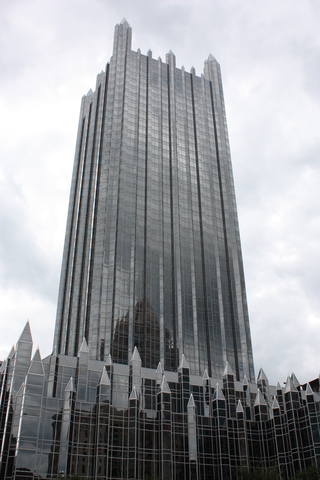 While downtown, however, we passed a hole in the ground that was one day to be PPG Plaza, headquarters of Pittsburgh Plate Glass, at that time and probably still the world's leading supplier of architectural glass. The buildings were completed by the mid-1980s, but its crowning touch – a plaza fountain prepared by WET Design in a space designed by SWA Group – wasn't added until 2003.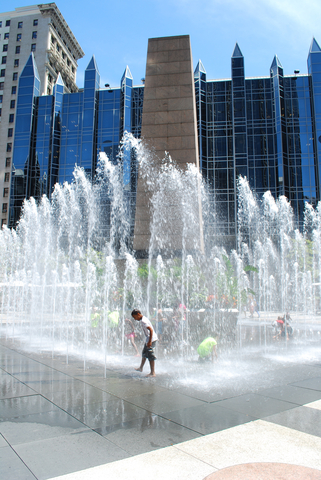 The building itself (designed by the then-omnipresent Philip Johnson with John Burgee) is wild and worth a pilgrimage on its own: It's a sampler of the company's translucent wares splashed out across a huge neo-gothic high-rise and several lower-rise structures. But as usual, my eye was captivated by the fountain and its array of 140 jets and 280 lights when I last visited the city.

It's quite a show, especially in the evening. And as I will always remind anyone who makes the trip, Fallingwater is only a short drive away!