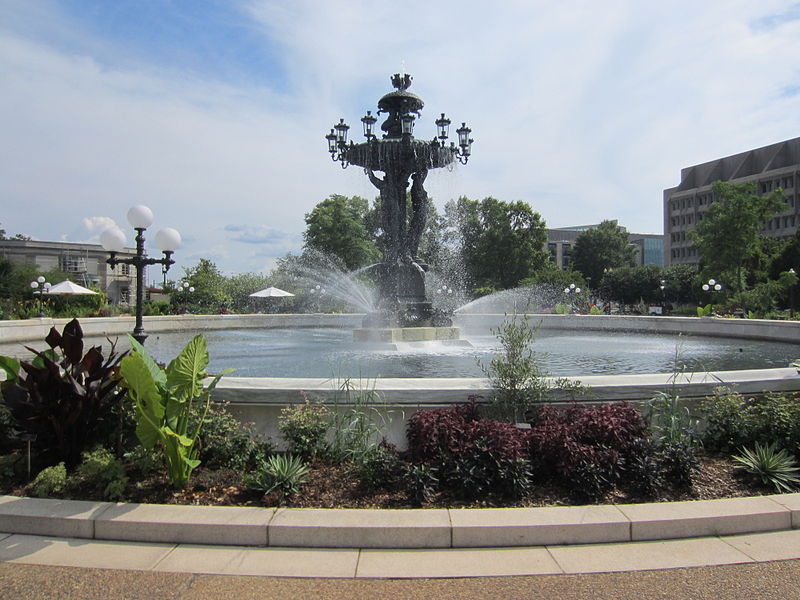 By Jim McCloskey
I visited Washington, D.C., for the first time in 1978. I had stopped to see my brother, who was living there at that time, and was intent on taking in as much as I could before heading back home to California after many months of travel that had carried me all over the northeastern United States and Europe.
I had been born in the district 22 years earlier, but my family moved to Cleveland when I was a year old, so I held no memories of the city of my birth. Suffice it to say, I made up for lost time.
In four days, I saw everything I could, including all of the Smithsonian museums, historic federal buildings, Arlington Cemetery, old-town Alexandria and much more. The only fly in the ointment was, I was unlucky enough to be there during a horrific September heat wave – near-triple-digit temperatures with near-triple-digit humidity – and kept needing to find places to escape and cool off.
One haven I sought was the U.S. Botanic Garden on the Capitol Mall, which is a bit odd because I should have figured that an all-glass conservatory meant to make plants happy through Washington's intemperate winters would be the last place to go. But I was young and foolish, so there I went – and left almost immediately because of what I spotted once I was under the glass: the Bartholdi Fountain.
I was just back from Europe and was immediately struck by how exotic this fountain looked – like something plucked from a Paris park and transported across the sea. And that wasn't a stretch, because I learned while enjoying the cooled air radiating from the fountain's flow that it had been designed by a Frenchman who'd used it as a grand calling card at the U.S. Centennial Exposition in Philadelphia in 1876.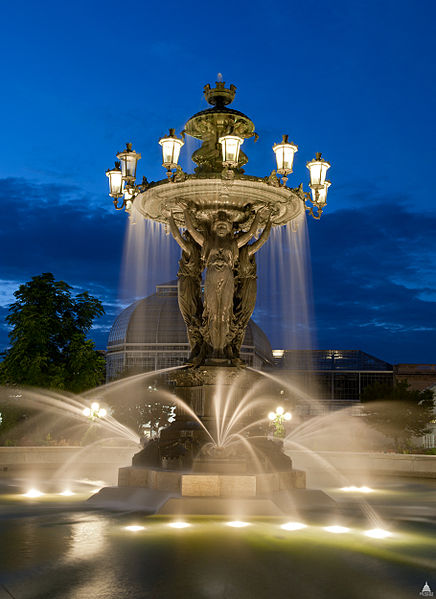 The renowned sculptor Frédéric Auguste Bartholdi had brought his composition to the expo as a prototype, hoping to sell it (and other versions) throughout the course of the event. It didn't work out that way, and Batholdi ended up moving the fountain along to the U.S. Congress (for about half the original asking price) at the recommendation of Frederick Law Olmstead, who was working on the Capitol grounds at that time. (Bartholdi would end up several years later producing the Statue of Liberty, so it seems the experience of 1876-78 didn't sour him entirely on his U.S.-related prospects.)
The 15-ton iron fountain appeared in various spots around the Capitol Mall through the next 50-odd years. In its original form, the fountain had been illuminated by gas lamps, so wherever it happened to be, it was one of Washington's first nighttime attractions. By 1932, it reached its current (and one assumes final) destination, landing in what is now known as Bartholdi Park just behind the Botanic Garden's main building.
I like everything about the fountain – its lift, scale, grace and elegance, even its patina. I was happy to hear in 2008 that it was to undergo a complete, detailed restoration and even happier when I heard it would be returned to service at some point in 2011. (A story on the project was among those left hanging when WaterShapes transitioned away from print.) I have not seen the refurbished fountain with my own eyes, but the photographs are spectacular and I will consider it a must-see when I eventually get back to town.
One suggestion: If you want to see the city and can help it, stay away if the weather forecast includes a "major heat event" – there's just too much to see, and being in a furnace makes everything so much harder!