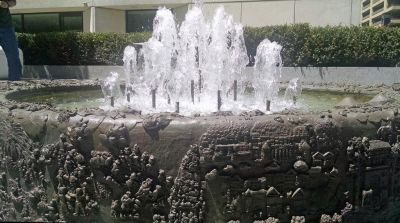 By Jim McCloskey

A brief, late-spring visit to San Francisco gave me the opportunity to be just a tourist there for the first time in many years. Judy and I stayed at a place near Golden Gate Park and spent a long, full day in its huge expanse, moving from one great and wonderful attraction to another.
The fact that the Park's museums were closed on that Monday was actually an advantage, because we were able to focus on seeing outdoor spaces neither of us had paid attention to in years. These included the Botanical Garden, the Japanese Tea Garden, the Garden of Shakespeare's Flowers and the wonderful transitional landscapes and structures we encountered as we moved from one destination to the next.


We spent a second long day downtown, seeing the new modern art museum and revisiting the Martin Luther King Jr. Memorial I wrote about in a Travelogue in April 2016.
But my main mission while we were in the vicinity was sizing up what had become of Ruth Asawa's San Francisco Fountain, which had been threatened by development of a big new Apple Store.


When I saw it from across the street, I have to say I was elated: The folks at Apple ultimately came to their senses and decided not to mess with a local treasure. (They may have been influenced in their decision by the hue and cry from fans of the fountain, but no matter where they found their preservationist streak, I'm glad they did.)


I spent a good half-hour giving the fountain my undivided attention. It's covered by whimsical sculpted images related to San Francisco's history and culture going back several generations – a clear case where close study is rewarded as you get used to the way she assembled vignettes (seen here in renditions of a Chinese New Year celebration, classic Victorian row houses and curvaceous Lombard Street) and used proximity to set up dialogues across time and space.


Ruth Asawa (1926-2013) is a fascinating artist. She and her family were interned during World War II, relocated from Los Angeles to Arkansas (where she completed high school while in the camp) for the duration of the conflict.
After the war, she studied with Josef Albers (formerly an instructor at the Bauhaus, the famed German art school) and developed a sculptural technique in which she used wire to weave forms that took on a variety of abstract and literal shapes.
Like Albers, Asawa became a strong advocate of arts education and participated in or led programs to introduce children and ordinary citizens of San Francisco to fine arts disciplines.
Her career was long and varied, but in San Francisco she is best known (and quite beloved) as The Fountain Lady because of the prominence of her sculptural watershapes around the city, from Ghirardelli Square to the courtyard alongside the new Apple Store.

I'm drawn to her obvious wit and a deep sense of humor, and I strongly recommend making a tour of her various projects a feature of your next visit to the city. But if you see only one of them, you can't do better than the San Francisco Fountain: It's a true gem, and I'm so glad it's been saved!