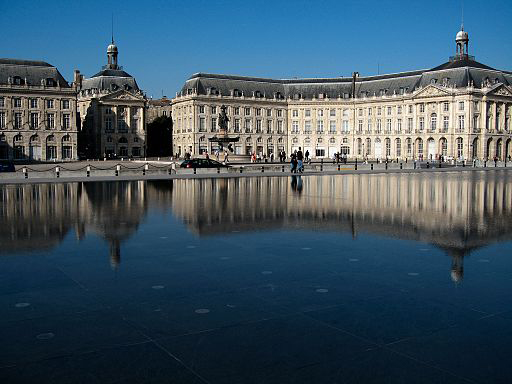 By Jim McCloskey
It's been many, many years since I visited Bordeaux – and when I did get there back in the 1970s, I had yet to develop my appreciation for the French region's wonderful wines. As a result, I was the swiftest of sightseers out on a day trip, and one of the few things I recall with any strength of memory was the Bourse, a set of grand riverfront structures that now serve as the region's central commercial exchange.
Under construction from 1730 to 1775, the complex was designed by Ange-Jacques Gabriel, probably most renowned for his work on the Place de la Concorde in Paris. He was an ardent exponent of neoclassical symmetry and certainly didn't ease off his preferences in this case. When I saw it in 1978, I was impressed by its balanced grandeur and spectacular level of detail.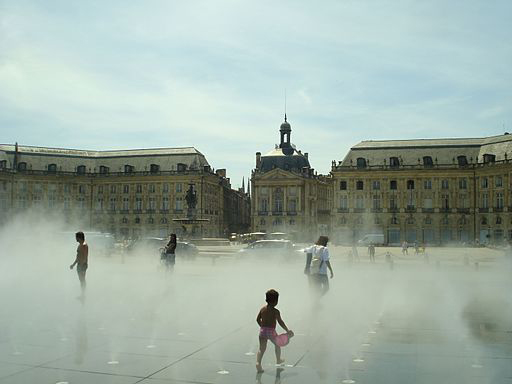 In 2006, however, something wonderful happened to the plaza fronting the Bourse through the addition of the Miroir d'Eau ("Water Mirror'): Set between the buildings and the Garonne River, it's reputed to be the largest reflecting pool in the world at about 37,000 square feet and is the work of Jean-Max Llorca, a Barcelona-based waterfeature designer who has additional offices in Montpelier, France, and Shanghai.
On his web site, Llorca indicates that the Miroir d'Eau was inspired by the tidal flooding of the surface of St. Mark's Square in Venice and is therefore his way of imitating nature. I'm not so sure the huge, rectangular watershape exactly aligns with that ambition, but it's still mighty cool.
This is only the second time I can recall writing in these Travelogues about a watershape I haven't personally visited, but I was doing a bit of research for a future trip and was so impressed that I had to break with standard practice.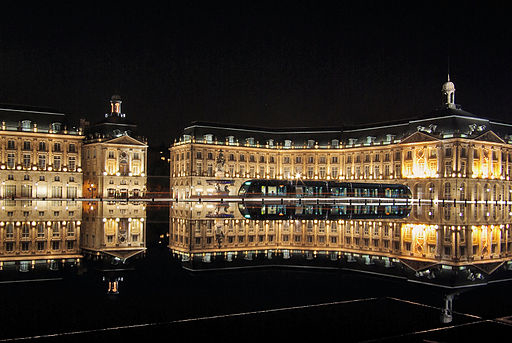 Also, I wanted to call attention to the work of Mr. Llorca, someone with whose output I was unfamiliar but whom I'll definitely be watching in the future.
He's obviously fascinated by water's reflective properties, but he also plays with the passivity of mirrored surfaces – for example, by including a fog system in Bordeaux that adds a form-breaking dimensionality to the composition at timed intervals through the summer. The fact that the water is only three-quarters of an inch deep also effectively makes the Miroir d'Eau "interactive": Those who stop by clearly have no reluctance to walk on water when given the chance.
The Miroir d'Eau is on my list of attractions to see when I'm in the area – I hope next year. And I know I'll be in the area for more than a day this time: The chateaux and their wines await!
To see Jean-Max Llorca's web site, click here.
To see his own gallery of images of the Miroir d'Eau, click here.