By Jim McCloskey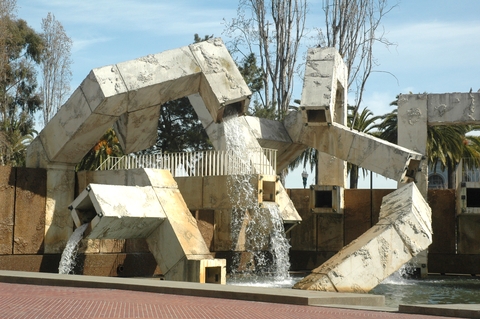 Every once in a while, a watershape impresses me for reasons not even I quite understand.
A case in point is the grand-scale fountain in San Francisco by the Canadian sculptor and performance artist Armand Vaillancourt. Perhaps it was the fact that he dubbed his California project "Québec libre!" that grabbed my attention; or maybe it was that a whole lot of the people who looked at it with me one June day in 1973 could speak of nothing beyond how much they hated it.
I was 18 at the time, fresh out of high school, in the city for about a week seeing the sights and doing my best, mostly on foot, to cover as much ground as I could. Taking a tip from a friend, I visited the Embarcadero and stopped by what was then the brand-new Hyatt Regency to see one of the first of John Portman's many daring hotel projects. The externalized, frou-frou elevators were interesting, but I recall staring in true wonder at the perimeter-overflow fountain in the lobby, thinking he (or his watershaper) must have added glycerin to the water to make the sheeting effect work so flawlessly.
That was impressive, but it was nothing compared to the public fountain not far away.
Assembled through several years and dedicated in 1971, Vaillancourt's fountain is simply huge: 200 feet long, 140 feet wide, 36 feet high – a mass of squared-off snakes slithering around the plaza they've come to own. According to reports, the sculptor visited the plaza the night before the fountain was dedicated and inscribed Québec libre! in big red letters to indicate his solidarity with the separatist movement emerging in his home province – and was so offended when city employees obliterated the inscription the next morning that he hopped up on it again and rewrote his original inscription, this time multiply.
Ever since, the fountain has been something of a flashpoint. At various times, the flow has been turned off to save either energy or water, and there have been various discussions about removing it altogether, starting most seriously in 1989 when damage from a major earthquake led to redevelopment of neighboring areas. As recently as 2004, there was a vocal movement to pull it down.
All I can say is that I hope it stays – inscriptions, graffiti and all – and that the city will find a way to keep it flowing for generations to come. Yes, it's ungainly and maybe a bit crude, but as the photographic collection and the video highlighted below capably indicate, it has a certain charm.
When I first saw it nearly 40 years ago, I was just a kid with an emerging interest in art and architecture; Vaillancourt's fountain captured my imagination like nothing I'd ever seen before. I've "seen" it other places since, of course (echoed particularly in some projects by Ricardo Legorreta), and will always admire it: Vaillancourt himself may have been a bit odd and confrontational, but it could never be said he lacked originality or ambition.
So visit while you can: Any monument under so much stress could vanish at any time!
Video:
To see a brief video of the fountain in action, click
here
.
Photos:
To see a series of images by photographer Thomas Hawk that show off some of the structure's quirky beauty, click
here
.