Articles
By Mark Holden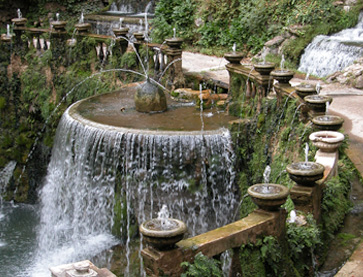 If you're looking for a destination that includes, all in one place, several of the most enduring and influential watershapes of all time, you couldn't go wrong in visiting Villa d'Este — without question one of the greatest collections of watershapes on earth.
Perhaps best known as the inspiration for the dancing fountains at Bellagio in Las Vegas, this amazing residence is perched high in the hillside town of Tivoli, Italy, about 20 miles southeast of Rome. The villa was mostly designed by Pirro Ligorio at the behest of Cardinal Ippolito d'Este, and its gardens are a wonderland of allegories arranged in a cryptic geometric pattern.
There are so many wonderful fountains here that it's tough for me to focus on just one. If pressed however, I can't overemphasize the importance to me of the Fontana dell'Ovato ("The Oval Fountain"). Both beautiful and emotionally evocative, it's placed at one of the terminuses of the Alley of a Hundred Fountains (another justly famous crowd favorite).
The Oval Fountain is a monument to the aqueous fecundity of Tivoli, a fabulously water-rich place where powerful families established country estates — and had been doing so for more than 1,500 years before the d'Estes arrived on the scene. The waterfeatures at the villa include more than 500 jets that express the steady power of the river and springs that feed them.
Overall, the grounds of the Villa d'Este are among the finest examples of the Italian Renaissance garden, which typically explores the extremely rich relationship between man-made structures and nature. The Oval Fountain is definitely one of the best of all such compositions, with a main upper bowl passing an inch of water over its edge in a perfectly symmetrical sheet flow of the sort that seems to elude most modern designers and builders.
This feature, as is true of all of the waterfeatures at the villa, runs entirely on head pressure. Indeed, this is a place where art, science and environmental design come together in a graceful scene that should serve as an inspiration to any designer who seeks to balance the natural with the architectural.
For me, Villa d'Este has always been my own "Graceland," and I know I can stroll along its walkways for days without boredom after having done so on multiple occasions. It's important to me both personally and professionally, stirring passion with the richness of the setting and rewarding the intellect with its take on the relationships among plants, stone and water. And there's always the sheer brilliance of its aquatic engineering.
There are many other gardens I know of where water is used as an expression of the power of its owner, with the Gardens of Versailles coming to mind as a prime example. But where Louis XIV's designers wanted to overwhelm visitors and impress them to the point of intimidation, Pirro Ligorio and his patrons created a place that makes its impressions in ways so subtle that it leaves the visitor to consider how gracious country life must have been for people of means during the Renaissance.
Pirro Ligorio was more of a historian and antiquarian than a garden designer, and there are some who would say that it shows. For me, however, I've always found that those who were trained in other disciplines often conceive great landscapes and watershapes — and that's truly what you'll find at Tivoli.
Mark Holden, founder of Holdenwater in Fullerton, Calif., is a landscape architect, landscape and pool contractor, and educator specializing in watershapes. He is a veteran contributor to WaterShapes magazine.
People in this conversation