Articles
By Jim McCloskey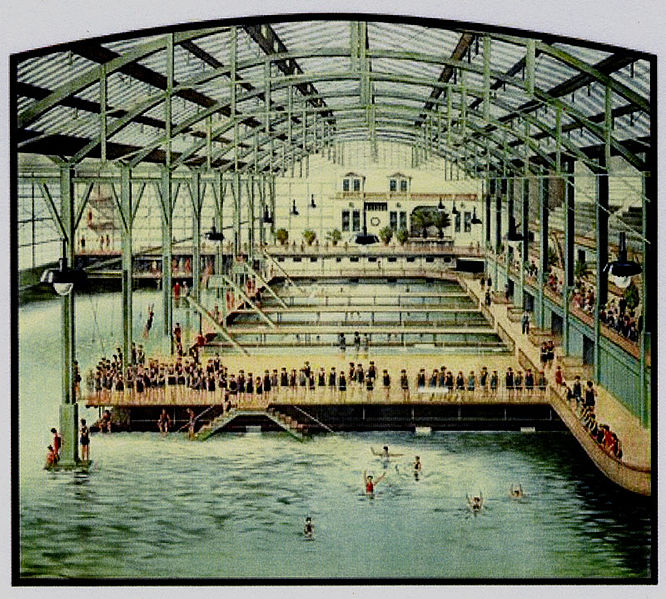 Back in 1979, when I first started in magazine publishing and was toiling away as a humble editorial assistant rewriting lots of press releases, the thought of having my own office seemed out of reach. But I was just 23 at the time and thought of workplaces as permanent and unchanging. I soon learned that all it took was being good at what I did, then attrition, promotions and transfers did the rest: After eight months I was an associate editor and had my own office – and plenty of wall space to decorate.
To celebrate my new position, a friend gave me an oversized version of the famous poster of the Sutro Baths, a long-since destroyed landmark of the golden days of San Francisco. (A tiny version of it appears just above; below is a photo of the site in its current condition.)
The facility depicted on the poster hearkens back to a time when public baths were commonplace. But the California coast was special in that its length was dotted by grand saltwater plunges – fill-and-drain watershapes promoted as healthful gathering spots where young men could show off their physical prowess while young women oohed and aahed.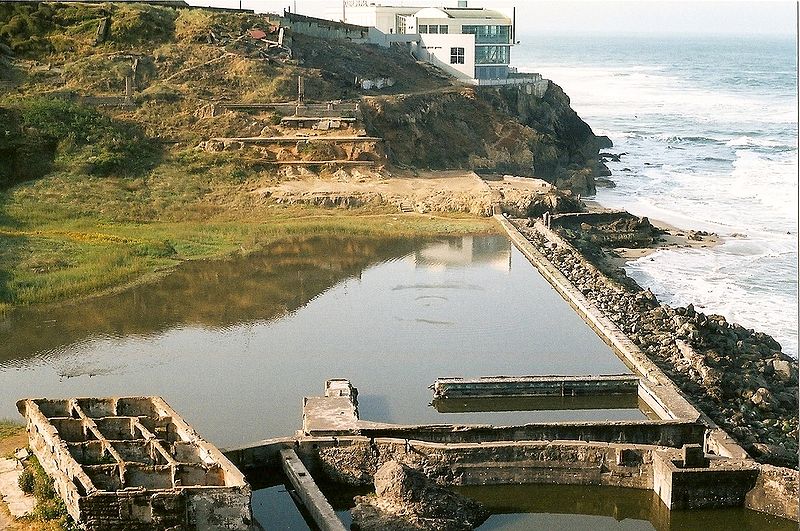 The Sutro Baths were remarkably grand by just about every measure, at a whisker under 500 feet long and a hair beyond 250 feet wide. The structure included 10,000 cubic yards of concrete, 600 tons of iron, 3.5 million board feet of lumber and 100,000 square feet of glass.
There were six saltwater tanks and one freshwater plunge, and the complex held more than 1.8 million gallons of seawater. The space also offered room for thousands of spectators who thrilled to the daring exploits of those who rode the toboggan slides, used the springboard or dangled from any of the 30 swinging rings. It must have been quite a scene in its heyday – and still makes quite an impression now.
It took amazing force of will to develop this complex back in the 1890s. I can't imagine having the audacity even to propose dedicating so much oceanfront property to a facility of this nature in the here and now, but Adolph Sutro was a man with a plan.
Next time you're in the city (and find yourself at ease on a nice day), why not roll out to the far fringe of Golden Gate Park and look in on the ruins? Just keep a memory of my poster in mind as you overlook the space and enjoy the awe-inspiring scope of Sutro's vision.
Photos: For a rich vein of photos of the site, click here. But be advised that there are more than 200 images in the file and that you'll get the general idea after about ten of them.