Articles
By Jim McCloskey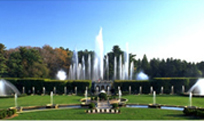 Through the years, I've spent lots of time in Philadelphia, both on business and visiting with family and friends scattered throughout the area.

I've been there so many times, in fact, that I started hunting a bit farther afield for things to do -- and now driving down to Kennett Square, Pa., to visit Longwood Gardens is something I try to incorporate into every trip.

The video link below will introduce you to the estate's grandest fountain. It blows my mind to think that it was developed early in the last century and has only recently been upgraded to include computer control of the jets.

It may not be as subtle or flashy as the fountains at the Bellagio Hotel in Las Vegas, but it bears enduring testimony to the longstanding desire of human beings to manipulate water to the best of whatever technological capability they have available.

And this fountain complex is only the beginning: The estate is filled with other pools and fountains and water displays -- a must-see place whenever you get within driving distance.

To get a taste of the main fountain, click here.