Articles
By Mark Holden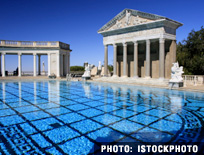 In a previous edition of WaterShapes EXTRA!, I discussed the merits and deficiencies of Hearst Castle, and was quickly rewarded with a torrent of other peoples' opinions. In all of the many comments I've seen, one thing is clear: Hearst Castle is a lively subject, and while many agreed with me wholeheartedly, others strenuously contested my views on the success of its overall design.
Still other people managed to find ideas in what I wrote that weren't really there. Let me start, for instance, by addressing those who've accused me of claiming that the castle was poorly designed, that it lacked significance and, finally, that Julia Morgan wasn't up to the task. Obviously, I struck a nerve with these readers, but absolutely none of what they imply was on my mind in writing the original piece.
My explicit criticism of the castle is that it is comprised of vignettes or scenes that in many cases are the most stunning examples of artistry I've ever seen — but that the overall collection of those scenes lacks continuity. Once again, if you take a narrow view, then elements of the composition are worthy of praise. But when you look at it from a slightly broader, aerial view, you see that the estate consists of four or five great projects that have been shoehorned together.
One of the most important concepts in the "History of Water and Architecture" course I teach for Genesis 3 is that, as watershapers, we currently toil in a product-based industry. My goal is to push past that orientation and guide my students to adopt an artisan-based mentality instead. In that light, my concern about Hearst Castle's architectural elaborations is that it seems to be the poster child of exactly the tendency I counsel against: It is essentially a product-driven design, with the "products" in this case being the art and artifacts Hearst collected from around the world.
My point: Assembling architectural and decorative objects while spending countless millions on a project does not guarantee great design and instead can result, as it does at San Simeon, in gratuitous eye candy. By contrast, artisan-based design starts with a concept that develops into physical form through the design process. Simply assembling objects as they are purchased — a Greco-Roman temple here, a Spanish church there — with no greater unifying design scheme should, in my view, be rejected as an option in modern watershaping. To call something art just because it is expensive is inexcusable in this strict context.
If I were asked to judge photos from the famous castle in a design competition, it wouldn't pass muster. Technically, the place is a wonder and if the photographs were great I might grant it an award of merit. But as a whole project, it lacks what I consider to be the guiding hand of a master architect and instead seems no more than the restless ramblings of an overly ambitious, fabulously acquisitive client. This is no knock on Julia Morgan, who I believe did her level best to pull everything together. Indeed, I shudder to think what the results might have been had the architect not been so incredibly talented.
If there is one thing that I have learned about art through years of study and experience, it is that it is an expression of one's self and is meant to move or provoke thoughts or feeling in others. If the castle moves you, that's fine and you can call it art. But if the space is characterized by a jumble of nifty things that are crammed together, then I question its validity as a source of guidance for our design pursuits and practices.
Hearst Castle is great — but at what? My original commentary was an attempt to state what I'd long felt was an obvious but unspoken truth. To me, if icons of design share common "values" with contemporary projects we condemn as we flip through the pages of our trade magazines, they themselves must be condemned, too. To make exceptions based on the reputation and other achievements of the designer is, it seems to me, hypocritical.
For Mark Holden's original commentary on Hearst Castle, click here.
Mark Holden, founder of Holdenwater in Fullerton, Calif., is a landscape architect, landscape and pool contractor, and educator specializing in watershapes. He is a veteran contributor to WaterShapes magazine. For more information, go to www.holdenwater.com.