Articles
By Jim McCloskey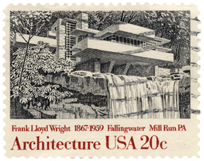 Aided by the fact that my sister lives within easy driving distance of Mill Run, Pa., I've visited Frank Lloyd Wright's Fallingwater several times through the years and have had the good fortune to see it in spring, summer and fall.
It's an amazing place and has been documented with
countless photographs and videos. But none of them is quite like this virtual tour of the site: I particularly appreciate the sense of watching the place grow from the base of the creek up to the canopy of trees.
To watch the video, click
here
.