Articles
By Jim McCloskey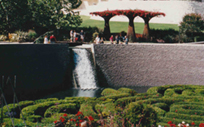 The Getty Center is a true multimedia experience: imposing architecture, lots of people, incredible materials of construction, amazing views, diverse spaces, and rich and varied sounds.
Designed by architect Richard Meier, the 750-acre campus is dominated by huge structures wrapped in Travertine, glass and enameled aluminum. It seems a bit cold (although time is softening the sharpness), but it will always be the smaller spaces between the angular buildings that make the warmer impressions. This is where you'll find Meier's compact watershapes, fountains and reflecting pools; the gardens by landscape architect Laurie Olin; and, in particular, the central garden and watershapes created by artist Robert Irwin.
There are enough creative uses of water here to make the Getty Center a worthwhile stop for any watershape designer or builder – and a great experience for those motivated to explore ways of using water's full range of sounds and its sheer visual energy to bring comfort and intimacy to spaces large and small.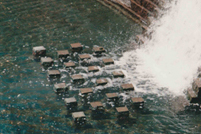 From my first visit, my favorite spot at the Getty Center has been the basin that brings Irwin's composition to a resounding conclusion. A small stream above becomes a swift, shallow river that ends with a whoosh, crashing down a stepped spillway into a maze of tautly manicured hedges.
To get close to the basin, you must follow a curving, zigzagging path. Once there, you appreciate why Irwin deploys standing stones at the foot of the cascade to slow the water as it moves toward the garden maze. It's a magnificent composition – and the most engaging of the must-see features of this Los Angeles landmark.