Articles
By Jim McCloskey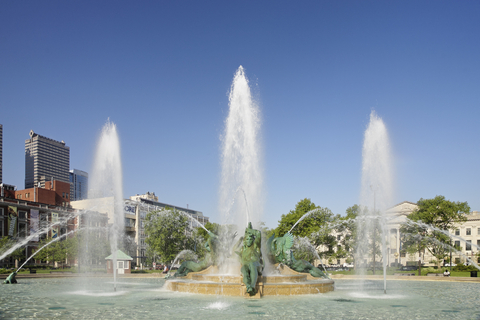 As I've mentioned before in these Travelogues, I have strong ties to Pennsylvania and have spent a considerable amount of time exploring all it has to offer visitors, from the basic touristy stuff to some wonderfully off-the-beaten-path sorts of experiences.
My brother Tom lived in Philadelphia through most of the 1980s, and both work and pleasure led me to visit him on so many occasions that I came to know the city quite well. The waterfront is amazing, and so is the historic district
with its rows of multistory brick homes, Independence Hall and the Liberty Bell.
Across town (but not far away) is the Ben Franklin Parkway and its long line of museums. I do believe I've visited every one of them on multiple occasions and couldn't begin to count the number of people I've seen on the steps of the Philadelphia Art Museum striking a pose with fists upraised in imitation of Sylvester Stallone's iconic Rocky Balboa.
It's a storied city, and one of its great attractions is Logan Circle and its Swann Memorial Fountain. Indeed, this is among my all-time-favorite watershapes and an art buff's dream: Designed by Alexander Stirling Calder (son of the sculptor who produced the statue of William Penn that tops Philadelphia City Hall and father of the famous modernist sculptor) with architect Wilson Eyre, the fountain is named for W.C. Swann, a doctor who had the enviable side-gig of founding and leading the Philadelphia Fountain Society.
Also known as the Fountain of the Three Rivers, the composition includes Native American figures symbolizing Philadelphia's three main waterways, the Delaware, Schuylkill and Wissahickon rivers. The central spout generally rises to a level of about 25 feet but is capable on special occasions of reaching heights up to 50 feet. Credit Mr. Eyre with the fountain's hydraulic core as well as its basin and the other jets.
The Swann Memorial Fountain is a magnificent watershape. Even if all you're doing is driving along the parkway and only glimpse its spouts as you whiz around trying to find a parking spot near one of the museums, it's a sparkling, dramatic vision. And if you're there on a hot summer's day, do as I've done many times and ease your aching feet in the cool, clear water. It may not strictly be legal, but it's sweet relief.
For a photo essay reviewing the history pf the fountain and Swann's contribution to the community, click here.
For a video featuring the fountain and Logan Circle, click here.