Articles
By Jim McCloskey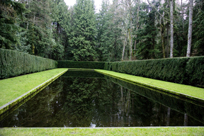 When I travel from Los Angeles to visit my mother, who lives across the sound from Seattle on Washington's beautiful Bainbridge Island, I always do my best to stop by the Bloedel Reserve while I'm there.
The Reserve is an internationally renowned public garden that puts its emphasis on
providing guests with a tranquil, refreshing experience of nature. Its 150 acres include a Japanese Garden, a moss garden and the attraction I want to highlight here: a large reflection pool.
This watershape first etched itself into my consciousness about 20 years ago, when I saw it depicted in Kelly Klein's Pools, the coffee-table book she produced as a byproduct of her desire to get a perfect one for her own backyard. My mother moved to Bainbridge Island (where my brother lives as well) about ten years ago, and an event at the Bloedel Reserve was part of a family reunion in 2005.
I remember passing through a hedge and seeing the reflection pool in person for the first time. I knew I'd seen it before, but it took me a few minutes to remember where – probably because the space itself was so gorgeous that it took my breath away. The surface was a mirror that captured the surrounding trees and the sky overhead, and I was hooked.
True, Bainbridge Island is a bit off the beaten path, but the Bloedel Reserve makes it well worth a stop, especially if you're on the way to the Olympic Peninsula to see one of the world's few temperate rainforests – another global treasure of the Pacific Northwest.