Compiled and written by Lenny Giteck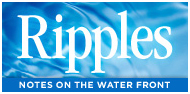 This installment of Ripples begins with an array of tasty waterpark tidbits...


Celine Dion's Private Waterpark
Ticks Off the Neighbors
Superstar French-Canadian chanteuse Celine Dion may be able to belt out a stirring ballad, but her neighbors reportedly were more stirred up by what they regarded as her extreme overuse of water.
The neighborhood contretemps arose because of Dion's newly built, private waterpark behind her $20 million mansion on ritzy Jupiter Island, Fla. An article on the London Daily Mail Web site reported that "the lavish pool system uses 500,000 gallons of water and includes two swimming pools, two water slides and a lazy river, which has a slow current to carry bathers around the pool."
Problem was, the multimillion-dollar installation - which reportedly will need 6.5 million gallons of water annually - exhausted the island's entire fresh-water supply, resulting in water restrictions for area residents. Dion's neighbors were not mollified when the singer had six wells dug on the property to store the needed H2O.
The Daily Mail report came out in June, so Ripples hopes that neighborly peace has returned to Jupiter Island since then. To learn more and view photos of the private waterpark, go to:
There's Nothing New
Under the Fog
If you think waterparks are some sort of newfangled development, think again. The Sutro Baths, on the western edge of San Francisco - the foggiest, chilliest side of the City by the Bay - opened in 1896 and operated until the mid-1950s. This indoor collection of seven swimming pools (one fresh-water and six saltwater) also boasted a concert hall, museum, ice skating rink and various other attractions.
To see a remarkable early movie (from the Library of Congress and filmed in 1897) of this grand aquatic installation from "back in the day," click on the link below. Be sure to stick with the movie until you've seen the Leander Sisters perform their energetic hoofing act. That's entertainment!
Pooches-Only Waterpark Opens
In - Where Else?! - L.A.
Paradise Ranch Pet Resort in La Tuna Canyon, Calif., near Los Angeles, has opened a waterpark exclusively for dogs. The Bora Bora Club - reportedly the first doggie waterpark in the world - includes pools, cascading waterfalls and geysers. "Our own dog kind of spurred us because she loves to go to the beach, she loves to get in the water, she loves shallow water, swimming... So we just decided, why not? A waterpark for dogs," notes Kristyn Goddard, who (along with her husband) owns the unique establishment. To see some adorable canines frolicking at Bora Bora, click here:
Human Tsunami Makes
Waves in Tokyo Waterpark
And finally, one additional waterpark item: a bouncy, if astonishingly crowded, scene from Japan. You may be aware of the "pushers" at Tokyo train stations - those white-gloved railway employees whose job is to shove as many hapless riders as possible onto subway cars. Now comes a video of a huge Tokyo wave pool seemingly filled with more people than water. To experience the Japanese idea of a shoulder-to-shoulder, fun day at the waterpark, click on this link:
Moving from waterparks to unusual items about swimming...
Who's Afraid of the
Big, Bad Piranha?
Ripples doesn't think you have to be overweight, intoxicated and...er... highly eccentric to swim more than 3,000 miles down the Amazon on behalf of the world's rain forests, but apparently it doesn't hurt, either. Or as the copy accompanying a trailer for the acclaimed documentary movie "Big River Man" puts it:
Meet Martin Strel, "The last superhero in the world." He likes to eat, he likes to drink whiskey and he likes to swim rivers. In 2007, the 52-year-old Slovenian swam the Amazon River and this is the movie of his journey...The film won Best Cinematography at Sundance in 2009 and has been airing on Discovery Channels' Planet Green Network recently.
Catch the trailer at:
Intercontinental Swimming?
Yes, It Is Possible!
Swimming down the danger-filled Amazon is impressive, but imagine the bragging rights earned by swimming from one continent to another! Of course, breast-stroking your way from, say, South America to Africa would be a bit of a stretch (to put it mildly), but an intercontinental swimming race is entirely possible where the continents of Europe and Asia are separated only by the Bosphorus, the half-mile-wide (at its narrowest point) strait between the two sides of Istanbul, Turkey.
Eight-hundred intrepid competitors - including, according to a BBC report, amputees and other physically challenged individuals - recently participated in Turkey's annual intercontinental athletic event, which celebrated its 20th anniversary this year. The winner was Turkish swimmer Hasan Emre Musluoglu, who completed the course in 41 minutes and 20 seconds.
To watch the video, click here:
Till the next installment of Ripples...
Happy Watershaping to You!
- Ripples is compiled and written by Lenny Giteck