Compiled and written by Lenny Giteck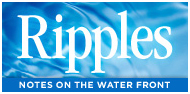 Woman Pleads Guilty in Bizarre
Swimming-Pool-for-Murder Plot
Ripples notes with astonishment the case of an Indiana woman who offered her used aboveground swimming pool (plus $200 "in gas money") as payment to kill her ex-boyfriend. Heidi Friedburg, who - along with new boyfriend William Alexander - was arrested last year in the murder-for-hire conspiracy case, recently took a plea bargain in Chicago federal court. According to a report on chicagotribune.com:
Friedburg admitted she texted an acquaintance in June 2009 about helping "get rid of someone 4 me." The acquaintance went to the FBI and agreed to work undercover. In a series of text messages and recorded phone calls, Friedburg offered to give a hired killer her pool - even sending photos of the pool - and $200, but she insisted the murder needed to appear to be an accident.
Ripples says: Swimming pools should be used only for good, never for evil.
Backyard Batman Pool Becomes
Satellite Image Sensation
Speaking of fighting for good and against the forces of evil, a suburban Batman pool has become a hot Internet item of late.
Two decades ago, a couple in Hinsdale, Ill., had the Batman emblem (copied from a beach towel) painted on the bottom of their backyard swimming pool. Their son, a kindergartener at the time, was an avid Batman fan who spent much of his time marching around wearing a cape.
Some 20 years later, a sharp satellite image of the pool's unusual artwork was captured by Google Maps - the clarity due in part to the fact that the pool was being filled at the time. The image was posted on a technology blog called Gizmodo, followed by the Web site virtualglobetrotting.com. Before you can say "Same Bat time, same Bat channel," it became an Internet hit.
A report on chicagobreakingnews.com quoted one of the homeowners as saying, "I can't believe it - our son sent [the link] to us. It's so strange." The homeowners have chosen to remain anonymous "not unlike the Caped Crusader himself," the report observed.
Predictably, news stories about the backyard Batpool have included headlines such as "Holy swimming pool, Batman!," "'Holy chlorination!' Batman pool is the buzz," and "Batman Bat Signal shines on suburban pool." Thank goodness Ripples would never sink to that level.
Holy final thought, Batman! The last installment of Ripples featured a $1.5 million swimming-pool art installation by glass sculptor Dale Chihuly - but the installation in Hinsdale proves you can decorate your own pool for around $1,499,900 less and still become a celebrity and the talk of the town.
PHOTO: To see a photo of the Batpool, go to http://tinyurl.com/3y5onbm.
Note: Photos and videos may sometimes open behind this page.
Is 'Things You Can't Do When You're Not in a Pool' Video All Wet?
There's not much Ripples can say about this approximately three-minute video, except that it is weird, whacky, whimsical - and perhaps somewhat amusing. Still, it does conclusively prove three things: First, Americans don't know you shouldn't use double negatives. (For additional evidence, consider the Caped Crusader quote in the previous story.) Second, some people have way too much free time on their hands. Third, there's a good reason swimming pools contain water. But is this video legitimate performance art or just the world's silliest documentary short? You decide.
VIDEO: You can view the video by clicking on http://tinyurl.com/2fw2a9v
Federal Prosecutor in Boxer-Shorts Swimming Fiasco Won't Face Trial
Regular readers of Ripples will recall the case of the initially unnamed federal prosecutor who was arrested after he swam in a pool at a local bar clad only in his boxer shorts - which suffered an unfortunate "wardrobe malfunction" when he got out of the water. We now know the hapless gentleman's name: Sean Cronin.
According to a report in the Miami Herald, the Miami-Dade state attorney's office has decided there is insufficient evidence to prove that the indecent exposure was intentional. Joel Denaro, Cronin's defense attorney, told a court hearing on the matter that his client "should have never been arrested in the first place." Prior to the hearing, the attorney characterized the charges as "beyond absurd," noting that Cronin "went swimming in his boxer shorts, for God's sake."
Still, Cronin is not totally out of hot water. The Miami Herald also reported that the Justice Department's inspector general may investigate him for alleged "misuse of authority and conduct unbecoming a federal law enforcement officer." This may have more to do with Cronin's failed attempt to avoid being apprehended by police than with the actual wardrobe malfunction.
Tarzan's Swimming 'Son' and Star of Bomba Jungle Movies Dies at Age 79
The world has learned of the recent passing of Johnny Sheffield, who played Tarzan's unofficially adopted son, Boy, in the Johnny Weissmuller movies of the late 1930s and 1940s. ("Boy" because Tarzan was a man of few and very simple words.) Sheffield also played the character Bomba in a later series of jungle movies of the same name.
The aspect of the story that caught Ripples' eye was the fact that the then 7-year-old Sheffield, who beat out 300 other youngsters for the part, didn't know how to swim when he won the role. Surprising, because as anyone who has seen the Weissmuller "Tarzan" films knows, swimming - which often included fighting off huge, ferocious rubber alligators - was a big part of the action. Weissmuller, of course, won five Olympic gold medals in swimming events.
Sheffield spoke to The Los Angeles Times more than a decade ago about how his audition with Weissmuller went. The following is from The Times' recent coverage of Sheffield's death:
"He [Weissmuller] jumped into the deep end of the swimming pool," Sheffield told The Times in 1997. "He knew I couldn't swim. He said, 'Jump in.' I jumped in the deep end and he took my arm and set me on his knee. He said, 'You're doing fine. Hold your breath, we're going under.' "We [later] did a lot of those scenes like that in the movies, where I was holding on to him underwater and swimming. We got out of the pool, toweled off and he said, 'This kid can swim fine.' "
What 7-year-old aspiring actor is going to contradict Tarzan?
PHOTO: To see Johnny Sheffield in his young, curly-haired prime (literally hanging around with Tarzan), click on http://tinyurl.com/28rhtqc.
Till the next installment of Ripples...
Happy Watershaping to You!
- Ripples is compiled and written by Lenny Giteck