Compiled and written by Lenny Giteck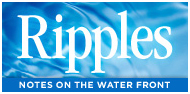 Swimming with Koi: Irish
Politician's Fishy Mishap

Ripples has heard of swimming with dolphins, swimming with sharks (both human and fish) and swimming with stingrays (sadly, how TV host Steve Irwin lost his life in 2006), but we've never heard of swimming with koi — at least, until now.

It seems that the First Minister of Northern Ireland, Peter Robinson, was cleaning the algae from his koi pond when he accidently went for an impromptu dunk. "Halfway through making my fish feel better about themselves, I lost my footing and headlong fell into the pond," Robinson later tweeted about his aquatic misadventure.

Understandably, the report on the Web site BBC.co.uk was not above a bit of mirthful ribbing: "…Peter Robinson found himself out of his depth on Sunday — while cleaning out his koi carp fish pond." (The pond's water reportedly is deeper than the First Minister's mouth and nose.) And, "As First Minister of Northern Ireland, he's used to getting out of slippery situations."

According to the BBC, Robinson's dip provided plenty of laughs for his family. "My call for help went unanswered as family either chortled and convulsed or searched for insurance policies," he was quoted as saying.

Still, the First Minister seemed to take the whole unplanned affair in good stride. Noted the BBC: "He later said that he only wanted 'tweets of sympathy,' not 'responses about slippery slopes or expressions of concern about my fish.'"


Aria Ready for an Underwater
Opera Staged in a Pool?

OK, now Ripples has heard of swimming with dolphins, sharks, stingrays and koi…but swimming with opera singers?

In case, dear reader, you think Ripples is making up this item (we wish we were that clever and creative!) or that this actually was a skit on "Saturday Night Live," here is the report, verbatim, from the Web site thelocal.de ("Germany's News in English"):


A specially composed opera with a difference premiered in a Berlin swimming pool this week, with singers performing in and out and even under the water. "Aquaria Palaoa" is the brainchild of Claudia Herr, a champion swimmer in her youth before turning to singing. Playing the lead role, she dives into the Stadtbad Neukölln pool in her green evening dress.
With the help of air tanks strapped to her back, Herr sings underwater, with the whale-like sounds she produces transmitted onto speakers situated around the swimming pool with the help of special microphones. Her voice and those of other singers — who also sing underwater but without oxygen tanks — are mixed with sounds recorded 100 meters (330 feet) under an ice shelf in Antarctica. The orchestra stays dry, seated around the pool.
The opera tells the story of a young woman looking for the elixir of eternal youth. In her quest she comes across a killer whale — played by a man in a black costume — and a choir of seals. There is also a message on climate change and pollution, with rubbish bins placed in the pool.

A green evening dress with air tanks? Clearly a major fashion faux pas. Ripples has only one comment to make regarding the underwater opera: It ain't over till the fat lady floats…or produces whale-like sounds.


Helping Wounded SEALs and
The Families of Those Killed

The U.S. Navy SEALs have been in the news a lot lately, with excellent reason. Every American — indeed, all civilized people around the world — should be proud of the SEALs for the mission they carried out in Abbottabad, Pakistan. Even though the war on terror is far from over, killing Osama Bin Laden has provided a measure of justice and may save thousands of lives in the future.

The daring operation by Navy SEALs made Ripples think back on a news item from the beginning of the year, about a heartwarming (if bone-chilling) event in Tampa, Florida. In early January, 67 swimmers donned wet suits, plunged into what was quite chilly water (mid-50s) at the time and swam three miles across Tampa Bay. The reason? To raise money to help Navy SEALs who've been wounded and the families of those who've been killed.

The news item, on the Web site tampabay.com, noted, "This was the second annual Tampa Bay Frogman Swim. The first one, held a year ago, was kind of a 'pirate event' — no permit, no insurance. Swimmers worried that someone would call the cops or the Coast Guard. But they ended up raising $30,000 for Lt. Dan Cnossen, a Navy SEAL who lost his legs to a landmine in Afghanistan."

This year, the organizers of the event — which won official recognition and even included a Coast Guard escort — aimed to raise $50,000 for the Naval Special Warfare Foundation. The charity, the report explained, "provides services for wounded SEALs and college educations for the children of fallen SEALs."

Reflecting on such SEALs, one of the event's participants — 62-year-old Pat Marzulli — observed, "It's tough day, but we remember why we're out here. Our pain is short-term; their pain is long-term."


Richard Branson to Take
Sub to the Ocean Depths

Apparently, billionaire British entrepreneur and adventurer Sir Richard Branson is not satisfied with conquering the skies (Virgin Atlantic Airways and several gutsy exploits in hot-air balloons) and sub-orbital space (Virgin Galactic). Now he also wants to conquer inner space: the depths of the planet's oceans.

Branson — along with Chris Welsh, a pilot and California entrepreneur — will take the new, 18-foot-long Virgin Oceanic submarine down 36,201 feet into the Pacific's Mariana Trench, reportedly the deepest unexplored point on the planet. That expedition, scheduled for later in 2011, will be the first of five such undersea explorations in five different parts of the world's oceans.

According to an article on LATimes.com, the expeditions "will be feeding trip data back to Google Earth, Google's free 3-D mapping software, as well as scientists from USC, the University of Hawaii, University of Alaska, the Scripps Institution of Oceanography and the Monterey Bay Aquarium Research Institute in California."

Not surprisingly, while Branson says the primary goal of the expeditions is to conduct scientific research, he reportedly is also considering "the deep-sea travel possibilities."

In view of how much a ticket is bound to cost (if fares on Virgin Galactic are any indication), we are hereby launching the "Send Ripples to the Bottom of the Ocean" fund. We're sure than anyone who contributes will do so in the right spirit of the fund's name.

Video: To see a beautiful animation of what the Virgin Oceanic submarine will look like in action, go to http://tinyurl.com/3fkn4s5 and scroll down.

Note: Some Web sites may open behind this screen.


"Ultra Swimmer" Jamie Patrick
Talks About His Obsession

According to UniversalSports.com, long-distance swimmer Jamie Patrick not only accomplished the amazing feat of finishing three Ironman competitions in one day, he also "swam Lake Tahoe twice in one day and is on a mission to swim 240 miles down the Sacramento River from Chico to Sacramento."

In a fascinating video, Patrick relates his life story — including a surprising, long-past chapter when he was sidetracked by drugs. The video is 21 minutes long, but Ripples thinks it's well worth the time to watch. Not everyone can be — or would want to be — another Jamie Patrick, but everyone can be awed by his single-minded dedication and unwavering fortitude.

Video: To view the Jamie Patrick video, click on http://tinyurl.com/3jw56st. Note: There are several pauses during the video when the screen goes to black — but then the story picks up again. Patience is advised.



Until next time, happy watershaping to you!