Compiled and Written by Lenny Giteck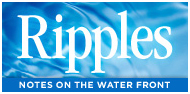 Marlon Brando: Inventor of Traction-
Optimizing Shoes for Swimming Pools

What comes to mind when you think of the legendary actor Marlon Brando? Great films such as "On the Waterfront," "A Streetcar Named Desire," "Julius Caesar," "The Godfather" and "Apocalypse Now"?

How about traction-optimizing swimming shoes?

It seems that Brando was not only an enormously talented thespian; he also was an imaginative inventor whose ideas — according to his patent attorney, Kevin Costanza — included the aforementioned wet footwear.

Costanza (quoted on the Web site movieline.com) recalls that Brando "had these shoes that you can wear in the pool, that would increase friction as you walk on the bottom of the pool to give you a better workout."

In addition, the actor invented an advanced system for, of all things, tuning conga drums. (Apparently, he was an avid conga drummer.) The movieline.com report notes that the Academy Award winner received a number of patents for his inventions.

Too bad Brando didn't pursue his other career as an inventor more vigorously. He coulda been a contendah! He coulda been somebody!

Video: We couldn't find a video of Brando in his traction-optimizing shoes, but to watch him playing a conga drum on the Edward R. Murrow interview show "See It Now" (around 1953), click here.


Chicago Mayor Rahm Emanuel:
Windy City's Swimmer-in-Chief

What comes to mind when you think of Chicago Mayor Rahm Emanuel?

A super-aggressive pol with a "take-no-prisoners" style? (His nickname in the political arena has been "Rahmbo.") One with a hot temper, acid-tipped tongue and foul mouth? (When Emanuel worked for Bill Clinton during the Monica Lewinsky impeachment mess, he famously shouted at British Prime Minister Tony Blair — who was about to give a pro-Clinton speech — "Don't f***k this up!" Both Blair and Clinton burst out laughing at the sheer chutzpah.)

How about avid lap swimmer?

According to a piece on the Web site ChicagoTribune.com by columnist Barbara Brotman, herself an avid swimmer, Hizzoner swims one mile, three days a week, very early in the morning, at the University of Illinois at Chicago's 50-meter Natatorium or at the East Bank Club. "He is training for the Chicago Triathlon," Brotman reports.

She quotes Kent Kirk, another devoted Chicago lap swimmer, as follows: "On the morning [Emanuel] was to be inaugurated, he was in the pool. Everybody stopped. We said congratulations, and we all cheered in the water." According to Kirk, the mayor thanked them and promptly got back to swimming.

Brotman concludes the article with a perhaps understandable bit of gloating: "Hail to our swimming chief, and to the dawn of a new day in Chicago. Bicyclists had Mayor Daley. Mayor Emanuel is ours."

LATE-BREAKING VIDEO! To watch the "feisty" Emanuel walking out of a recent interview when the reporter asked where he's going to send his kids to school, click here.


Bonkers for Bikinis: Celebrating
The Sexy Swimsuits' 65th Birthday

In case you've been living under a rock on, say, Bikini Atoll and don't know what a bikini is, Ripples offers this rather clinical description from Wikipedia:


The bikini is typically a women's two-piece swimsuit. One part of the attire covers the breasts and the other part covers the crotch and part of or the entire buttocks, leaving an uncovered area between the two. Merriam–Webster describes the bikini as "a woman's scanty two-piece bathing suit" or "a man's brief swimsuit." It is often worn in hot weather, while swimming or sunbathing. The shapes of both parts of a bikini resemble women's underwear, and the lower part can range from revealing thong or G-string to briefs.

Now that we've cleared that up, it should be noted that the modern bikini (earlier versions were known as far back as ancient times) was invented by French engineer Louis Réard in 1946 — which means that what may be France's greatest contribution to the world is turning 65 this year. To celebrate this special occasion, Ripples presents the following photo gallery…strictly for educational purposes, of course. You may want to take notes.

Photos: To view "20 Classic Movie/TV Bikinis" from the Web site EW.com (Entertainment Weekly), click here.


'Pool Perv' Spies on Naked Women
Down Under…or Is He Just Nervous?

Remember Ripples' previous report on the "perv" caught in the act of spying on women while they were changing clothes at a British public pool? Apparently, such noxious behavior may not be limited to the U.K. The following report comes from the Australian Web site NTNews.com.au:


A man has been perving on naked women in a changing room at a public swimming pool. Darwin City Council said that it had found no evidence to support the claims. But a professional woman told the NT News that the man as good as confessed when he was confronted by her boyfriend and a friend. The pervert's voice shook as he repeatedly said "sorry" after being caught coming out of a little storeroom next to the women's changing room at the pool.
Council community services manager John Banks said the man had told them he was "intimidated" at being confronted by two men, one of them "more than six foot tall." But the woman said: "That's rubbish — just an excuse given by a pervert caught in the act. He was clearly guilty and knew he'd been sprung."
Mr. Banks said police and the contractor who managed Darwin's public pools had also investigated. He said he knew nothing about holes in the storeroom wall or a gap at the top of the wall. The woman said: "The bloke either had a spy hole or some sort of spying gear to look over the top.
"He would watch me all the time while I was swimming. As soon as I went to the changing room, he would go into the storeroom next door. I was suspicious for months until one day he literally raced from one side the pool to the other to get into the storeroom in time."
The woman said the man had covered his tracks after being confronted by her boyfriend. "I admit I should have complained to the authorities straight away," she said. "I gave the pervert time to cover himself."
Not to make light of the story — which sounds like your basic "she said/he stammered" situation — Ripples does have several questions regarding the report.

If there is "no evidence to support the claims," why does the article start out by finding the accused guilty? (The Aussies have never heard of "Innocent until proven guilty in a court of law"?) What is a "professional woman," anyway? Isn't "as good as confessed" in the same league as being "a little pregnant"? Maybe the guy's voice shook because he's a nervous type? Since when is "perving" a verb in the English language? Is being "sprung" the same as being caught (like a rat in a trap, perhaps)? Interesting, because in American English the word has the opposite connotation.

Finally and most important, will the raunchy truth of this case ever be…uh…uncovered? Don't worry, dear reader, Ripples fully intends to stay on top of this Down Under story.


To Christopher Schwarzenegger:
Best Wishes for Your Recovery

Ripples wishes Christopher Schwarzenegger — the 13-year-old son of Arnold Schwarzenegger and Maria Shriver — a speedy and complete recovery from the injuries he suffered while surfing last week.

According to reports, the youngster was boogie boarding on a Malibu beach when he crashed and suffered a collapsed lung, broken bones and broken ribs. Although his condition initially was considered serious and he was in the ICU at an area hospital, the most recent reports indicate that he is much improved and is expected to make a full recovery.

Please keep Christopher in your thoughts and prayers.


Until next time, happy watershaping to you!

.