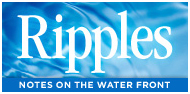 World's Most Amazing Swimming Pool?
Ripples thinks so — not because of the pool itself, but because of where and how it is situated. To fully appreciate this mindboggling installation, you need to see photos, so please click on the link below. (Be sure to scroll all the way down to view all the images.) Ripples is sure you'll be transfixed by the unique project designed by renowned Canadian-Israeli architect Moshe Safdie.
Tough Times Are Helping Water Parks
According to an article on the Web site latimes.com, the sluggish economy is actually helping water parks survive and even thrive. The article noted: "Though attendance at major theme parks has taken a hit, water parks are seeing an uptick thanks to families on 'stay-cation,' relatively cheap admission prices and steady business from summer day camps." Reportedly, attendance at North American theme parks was down 1.3 percent in 2009 (compared to 2008) but rose 3 percent at water parks. To read "Right Climate for Water Parks," go to
Swim More, Live Longer?
The answer to that intriguing question is a firm maybe, according to another recent article at latimes.com, which reported on a study by noted exercise scientist Steven Blair. While Blair says the study — which took 13 years to complete and was first published in 2008 — does "show that swimmers have lower death rates" than people who don't exercise or those who regularly walk or run, he cautions that the "small number of deaths [of swimmers in the study] could lead to erroneous conclusions." To learn more about the study and what it might mean, go to
2010 World Aquatic Health Conference
Speaking of the health benefits of swimming...the 2010 World Aquatic Health Conference of the National Swimming Pool Foundation will take place October 6-8 in Colorado Springs, Colorado. The event will include a broad range of seminar topics, including Aquatic Health Benefits, Risk Management, RWI (Recreational Water Illness) Prevention, Disinfection By-Products and Future Facilities & Regulations. For more information, go to
Put a Pond in Your Pants
Now you can walk around with a more vibrant koi-filled pond in your pants pocket (or shirt pocket or purse) thanks to a high-definition version of the popular iPhone and iPod app Koi Pond. The new Koi Pond HD — which is available at the iTunes App Store — promises a sharper image and more flexibility in customizing your own personal pond. Ripples hopes that having koi in your pants — unlike the well-known expression "ants in your pants" — will promote a soothing, Zen-like calm.
Or visit the Web site of The Blimp Pilots, creators of Koi Pond HD, at
Dumpsters: Manhattan's New Cool Pools
Leave it to resourceful New Yorkers to come up with a creative way to deal with the city's sweltering summer conditions: turning trash Dumpsters (or their first cousins) into refreshing swimming pools. According to a report in The New York Times, the Dumpsters will be "encircled by a five-foot-wide metal deck with a nonstick rubber surface, and accompanied by several changing-room cabanas, portable showers and portable toilets."
To read more about this surprising urban phenomenon, click on the following link:
To watch a video about a semi-clandestine Dumpster swim party in Brooklyn, click here:
Till the next installment of Ripples...
Happy Watershaping!
— Ripples is compiled and written by Lenny Giteck