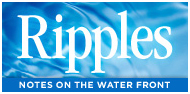 Readers Throw Cold Water on WSJ Pool Article
As if the tanked economy wasn't bad enough for watershapers, The Wall Street Journal recently published an article ("Taking a Bath on Your Pool") that, essentially, calls into question the sanity of any homeowner who decides to build a backyard swimming pool.
"It's definitely not an investment," opines one financial planner quoted in the piece. "It's a big liability, if anything." Says another: "They [homeowners] think about a house as a potential money pit, but they may not think about the pool."
The article adds up the alleged costs of pool ownership, questions how much a pool will really be used and shoots down any thoughts of recouping the investment when the property is sold. "They [homeowners] could probably make better use of that money," the article's author asserts.
Not exactly good news for the watershaping industry, especially considering that The Journal has a daily circulation of more than two million — and most of those are well-heeled individuals who would be prime candidates for pool ownership.
Now for the good news! Scores of pool-owning readers responded to the article, and most of them said the writer didn't know what he was talking about. Be sure to read the Comments section — it will warm your watershaping heart!
To read the Wall Street Journal article and the reader comments (see the Comments tab at the top of the article), click on the following:
Satellite Imaging Catches 'Rogue' Pools
According to a report from the Associated Press, the town of Riverhead, Long Island, is now using Google Earth satellite imaging to locate backyard pools that do not have a city permit. The campaign, spearheaded by the town's chief building inspector, has thus far uncovered some 250 pools lacking permits and collected approximately $75,000 in fines. Riverhead contends that its residents could be endangered by bad plumbing or electrical work on pools that are not officially regulated.
Vanilla Ice Has Bizarre Pond Meltdown
Remember Vanilla Ice? Don't worry, Ripples doesn't either. However, since it's not every day that a human being deliberately takes flight in a Cadillac in order to crash it into a pond — especially an erstwhile major celebrity white rapper and break-dancer — the headline "Vanilla Ice Nearly Drowns During Stunt" caught our attention. Why did Mr. Ice do it? Nobody seems to know. But in case you're interested in watching Van carry out the bizarre exploit, we present the following video as a public service:
Clash of Civilizations: Burkini vs. Bikini
A contretemps with political overtones took place at a swimming pool in France last month, when two Muslim women wearing "burkinis" — Islamic swimming outfits that cover almost all of the body — were denied use of the facility because of their attire.
According to an article on the Web site frenchtribune.com, "The resort defended its policy of not allowing people to use the swimming pool [without] wearing proper clothes due to hygiene reasons. It stressed that even men are not allowed to wear long shorts."
The lower house of the French parliament has voted (335 to 1) to ban any garb that obstructs the face (which the burkinis in question apparently did not). The measure is slated to be voted on by the French Senate next month.
On the other side of the so-called Clash of Civilizations, Ripples was interested to read that the skimpy bikini is back — and big time. To learn more about the return of the "itsy bitsy, teeny weenie, yellow polka dot bikini, " follow the link below. And yes, there is a photo gallery.
Silver Lake: A (Tiny) River Runs Through It
Think a homeowner must have a huge piece of land in order to accommodate a landscaped paradise with a lovely waterfeature? Think again! Take a look at this beautiful installation in the Silver Lake section of Los Angeles:
NSPF Offers Aquatic Facility Audits Course
A new handbook and online training course on safety audits has been launched by the National Swimming Pool Foundation®. "Drowning, disease, and injury prevention start with understanding the specific hazards," explains Thomas M. Lachocki, Ph.D., the CEO of NSPF. "The Aquatic Facility Audits course helps managers, operators and service professionals view the facilities they operate with a fresh eye focused on reducing risk."
Orders for the handbook and course may be placed at www.nspf.org or by calling 719/540-9119.
Till the next installment of Ripples...
Happy Watershaping to You!
— Ripples is compiled and written by Lenny Giteck