Compiled and Written by Lenny Giteck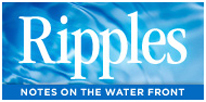 What with all the recent publicity about nudity and Britain's royals — a naked Prince Harry cavorting at a party in Las Vegas, a topless Kate Middleton sunbathing in France — Ripples can only wonder, What's next, photos of Queen Elizabeth "air drying" after a bath in Buckingham Palace?
Thankfully, it hasn't come to that…yet. But on the endlessly fascinating subject of our former colonial masters, there definitely is more of the naked truth to report — which is why we're so pleased to present this all-British installment of Ripples.
Brits Go off the Deep End
For Naturist Swimming
Although the British have long been known for proper (some would say stuffy and inhibited) behavior, members of the U.K.'s middle class have started to adopt the practice of swimming in the nude the way…well…naked ducks take to water.
According to the Web site rt.com, the trend was spurred by a 36-year-old entrepreneur named Fabian Riggall, who created an organization called the Secret Swimming Club. The group is "open to anyone who fancies skinny-dipping in rivers, ponds and lakes."
In an interview with the U.K. newspaper Daily Mail and quoted on rt.com, Riggall observed, "The swimming club is about breaking away from the formulaic, about going out on an adventure. Our lives are too organized, too regimented, and going swimming in the wild with a group of like-minded people is liberating and exciting."
Indeed, participants seem enthusiastic about their new pastime. Also quoted in the article:
"Until I started doing this, the only person who'd seen me naked in the last ten years was my husband. Soon you'll start to feel increasingly free and innocent. It's like a rebirth," said Emma, a 35-year-old mother of two from Kent.
"Swimming with a like-minded group in this beautiful setting is liberating," said Anton a 41-year-old architect from South London.
While Katy, a secondary school teacher from York enthused, "I feel a bit more able to relate to other people. I wish I could bring my class down here and make them all go swimming naked together — I think a lot of the bullying would stop."
Photos: To view images of British people splashing around in the water sans swimsuits, click here. Don't worry, you won't be exposed to anything scandalous.

Happy Birthday to Nuuude…
Happy Birthday to Nuuude…
Murphy 's Law being what it is, group public nudism does have the potential for unintended, undesirable consequences. Take, for example, the recent birthday party for a 7-year-old British lad held at Radcliffe Pool and Fitness Centre in Greater Manchester. Due to a scheduling snafu on the part of the facility, the mother throwing the party and other parents in attendance were horrified to see 20 naked men showing up en masse.
A spokesman for the facility was quoted on dailymail.co.uk as saying, "This naturist swim was a private booking from 6:30-8 p.m., at a time when it was assumed that no one else would be in the building. On this occasion, it would appear that we overlooked the fact that the children, who were booked into the pool from 5-6 p.m., would then go into the canteen space on the first floor for their party."
Apparently, it was the first time such a group had been booked at the facility. "If further bookings [for nudists] are taken again," the spokesman added, "they will be at a time when no other groups will be using the pool area."
As for what transpired after the men showed up, the article relates: "Staff had taped bin bags and paper to the windows in attempt to keep the naturist party from view. But the boy's shocked mother said she and other parents had to stand in front of cracks and at the balcony to make sure children didn't see them."
Guests at Birmingham Hotel
And Spa Vacation Au Naturel
The first naturist hotel and spa in Britain opened last year in a suburb of Birmingham — a city not exactly known for temperatures rivaling those of California's Death Valley.
That's why most of the attractions and activities at the small establishment are on the inside. Notes a travel article about Clover Spa on the Web site dailymail.co.uk:
[Owner Tim] Higgs has ensured there's plenty to do to keep guests occupied. The seven-room hotel, set in a 1920s former private residence, boasts luxury spa facilities — sauna, steam room, hot tub on the patio and a cold plunge pool ("You go in a man and come out a boy," Higgs jokes), as well as oil-scented treatment rooms for naturist massages and facials.
Why did Higgs, a longtime naturist, decide to open the clothing-free vacation destination?
"On the Continent, nudity is normal," he says. "Naturism is a common experience, and people wouldn't dream of wearing swimming costumes in wellness facilities in Austria, Germany, Denmark or Hungary. In Southern Europe, many beaches are naturist. But here, there's very little."
Higgs also owns and operates a nearby hotel for "textiles," as non-nudists are called.
200 Birthday-Suited Swimmers
Freeze Their Butts for a Cause
Despite cheek-chilling early-morning temperatures, more than 200 naked Brits recently plunged into the sea off the Northumberland coast to raise funds for an organization called Mind, a mental health charity.
According to an article on bbc.co.uk, the ambient air temperature at the time was 12 degrees Celsius (53.6 Fahrenheit) and the water temperature was 5.5 degrees Celsius (41.9 Fahrenheit).
Organizers of the North East Skinny Dip had hoped to set a world record with the event, but the turnout did not match last year's Midsummer Skinny Dip in South Wales, in which more than 400 nude swimmers took part. That event holds the record in the current Guinness World Record.
Nevertheless, the organizer of the North East Skinny Dip, Jacqueline Higginson, was quoted as saying it was still a "lot of fun."
Agent 007's 'Casino Royale' Swim
Trunks Fetch $71,956 at Auction
If you're a chap — British or otherwise — for whom swimming naked in public is never going to be your particular cup of Earl Grey, at least wear really cool swimming trunks when you go into the water. And what could be more impressive than the swimsuit worn by the newest Bond…James Bond — muscular actor Daniel Craig — in the 2006 movie "Casino Royale"?
Pity, because you could have owned that very swimsuit had you only put in the winning bid at a Christie's agent 007 memorabilia auction, held in London a few weeks ago. The trunks went for £44,450 (which as of this writing translates to U.S. $71,956).
The auction was to mark the 50th anniversary of the Bond movie series. ("Dr. No," the first Bond film, came out in 1962.) Over the past five decades. the coveted role has been played by British actors Sean Connery, George Lazenby, Roger Moore, Timothy Dalton, Pierce Brosnan and Daniel Craig.
According to a report on itv.com, other items auctioned off included the following:
>> The Aston Martin, 6 Liter V12 DBS, two-door coupe driven by Craig in the 2008 Bond film "Quantum of Solace," which sold for £241,250 ($390,536)
>> A titanium Omega Seamaster Professional Planet Ocean watch, worn by Craig in "Skyfall," the newest Bond film, which sold for £157,250 ($254,557)
>> A navy, wool Tom Ford suit worn by Craig in "Skyfall," which sold for £46,850 ($75,841).
Proceeds from the auction will benefit UNICEF, the United Nations Children's Fund.
Photo: To see images of the Bond swimming trunks sold at auction (one image with Daniel Craig wearing them), click here.
Video: To watch a delightful retrospective of several highlights from the Bond films, click here. The short clip is hosted by screenwriter John Cork, who co-wrote a number of books on the subject and is a recognized Bond expert.
The name's Ripples…James Ripples…
Until next time, happy watershaping to you!