Compiled and Written by Lenny Giteck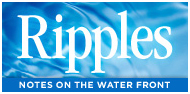 Limbless Aussie Dives into
Pool, Gets Out by Himself
There's not much to say about the 14-minute, self-explanatory video
linked below — except to note that watching it may forever change how you deal with the challenges in your own life.
Nick Vujicic, a 25-year-old Australian, was born without arms or legs — but despite that unpromising start, what he has made of his life is amazing. Simply put, Nick's back flip into a swimming pool barely scratches the surface of his incredible attitude and many accomplishments.
In Ripples' opinion, you'll miss out on a wonderful experience if you don't watch the You Tube video below.
Video:
To get to know Nick Vujicic, an inspiring human being born without arms or legs, click
here
.
Chinese Leaders and Swimming:
Navigating the Shifting Currents
In mid-August, Ripples was interested to read an article on the Web site foreignpolicy.com entitled "Why Don't Chinese Leaders Swim Anymore?" The piece was written by Isaac Stone Fish, an associate editor at Foreign Policy magazine.
In the past, Fish contended, swimming — especially in rivers and other natural bodies of water — was fraught with symbolism for the Chinese leadership and public. The article related:
Chinese Communist leaders have long used swimming to prove that they're healthy and competent enough to rule. Mao was a master, using his prowess in the water to demonstrate his power and keep his political rivals off balance.
Against the pleadings of his physician and his security guards, Mao would drift "miles downstream with the current, head back, stomach in the air, hands and legs barely moving, unfazed by the globs of human waste gliding gently past," wrote historian Jonathan Spence.
Indeed, Ripples is of an age that he remembers Mao's famous 1966 swim in the Yangtze River and the iconic images of the then 72-year-old's exploit that were flashed around the globe.
But according to Fish, swimming to send a political message has fallen out of fashion with today's Chinese bigwigs. Why? Governing the People's Republic is increasingly based on consensus, so that displays of individual athletic prowess are now viewed as "too transparently ambitious," flashy and unseemly.
(Clearly, this is not the case in Russia, where Vladimir Putin is notorious for his very public, frequently bare-chested, macho posturing. Putin's latest self-promotion was to pilot an ultralight aircraft that guided a flock of cranes on their migratory journey.)
Apparently, however, at least one of China's leaders continues to swim in private. According to an article posted on the Irish Web site rte.ie on September 11, a flurry of rumors recently erupted in China regarding the whereabouts and condition of Xi Jinping, whom the report described as "China's top leader-in-waiting." The Web site noted:
Mr. Xi, who is due to take over the presidency of the world's second-largest economy in March next year, has skipped several meetings with visiting foreign leaders and dignitaries over the past week. These include meetings with U.S. Secretary of State Hillary Clinton and the premiers of Singapore and Denmark.
Although the Chinese government was mum on the question of Xi's rumored disappearance, a high-level anonymous source was quoted as saying, "Xi injured his back when he went for his daily swim."
Perhaps. Or perhaps with time, a different explanation will emerge.
Before we move on to the next item, which also relates to China and swimming, please note: The fact that the author cited in the previous entry is named Isaac Stone Fish is purely a coincidence. With that in mind…
3,000 Contestants Compete in
First Goldfish Beauty Pageant
Longtime readers of Ripples may recall an item from February 23, 2011, about synchronized-swimming goldfish in China. At the time, Ripples wrote:
Chinese magician Fu Yandong has astonished Chinese television viewers by making several goldfish swim in unison, synchronized style. However, the act has sparked outrage among animal rights activists in China, who speculate that the feat was accomplished either by feeding magnets to the fish or implanting the magnets in them.
Ripples can only surmise that Chinese animal rights activists — especially when a lower phylum is involved — have an easier time of it than do the nation's human rights activists. After all, China's leadership doesn't have much to fear from a synchronized uprising of millions of goldfish protesting one-party rule.
Be that as it may, now comes word of the other side of the Chinese goldfish story: The world's first beauty pageant for the colorful fish was held recently in the southeastern Chinese city of Fuzhou. According to the Web site petslady.com, some 3,000 scaly lovelies competed; they represented 14 countries and regions, the article said.
The most highly coveted title was "World Goldfish Queen," which was garnered by one especially comely 3-pound behemoth. The Web site went on to note:
Lined up on tables in giant bowls, the fish were judged on criteria within five dimensions — breed, shape, size, color, swimming posture and overall impression. After the competition, all of the contestants were exhibited at the Fuzhou Strait International Conference and Exhibition Center.
There was no separate swimsuit competition (since each contestant was always in bathing attire), no evening gowns, no talent segment and no interviews — meaning no one had to suffer through fishy ruminations on world peace. Ditto for tiaras.
Most online reports tended to focus on the humor in the event, but Ripples would never stoop to that level. Ripples is just glad the pageant came to a successful fin-ish.
Videos:
Not surprisingly, the world's first goldfish beauty pageant won a spot on
Anderson Cooper's "RidicuList"
segment on CNN. To watch Cooper's take on the historic event, click
here
. To again view
Fu Yandong's magic act
, click
here
. Be patient: The real action starts at about 1:50. If you can't be patient, fast-forward by sliding the button to the right.
Bikinied Celebs on Parade:
70 Sexy Images from InStyle
Sure, goldfish are beautiful creatures — even sexy, in a Chrodata (phylum), Osteichthyes (class) sort of way. But you don't have to strain your brain to appreciate the 70 photos of sexy, female human celebrities in bikinis published recently on the Web site news.instyle.com.
The slideshow of skimpily clad hotties — which Ripples presents here purely for its sociological significance — starts with Israeli supermodel Bar Rafaeli, then moves on to the likes of Heidi Klum, Julianne Hough, Carrie Underwood, Rihanna, Eva Longoria, Jennifer Lopez and (of course) Kim Kardashian, to name just a few.
To view the
slideshow
, click
here
.
And with that, Ripples once again says…
Until next time, happy watershaping to you!