Compiled and Written by Lenny Giteck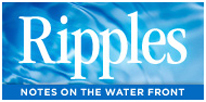 Swimming with the Sharks:
Good Fun for a 5-Year-Old?
The Internet was abuzz of late with opinions about parental judgment and responsibility — or lack thereof. The issue, according to sfgate.com: A Connecticut couple allowed their five-year-old daughter to swim with Reef, Lemon and Nurse sharks during a family snorkeling adventure in the Bahamas.
After the couple posted a video of the episode on the Internet, they became the target of considerable criticism. The Web site notes that the reaction was not exactly what they had in mind: "The child's parents, Elana and David Barnes, posted the video on YouTube intending to share a fun vacation experience, but instead they sparked a feeding frenzy."
One person responded as follows: "I'm an experienced diver who did work for the Oceanic Association, scuba diving with sharks and other dangerous fish. What these people have done is an outrage and an extreme stupidity. Swimming with sharks is not a Sea World adventure."
On the other hand, the parents also had supporters. "These sharks are not aggressive at all, and the five-year-old has a great story to tell and will probably learn something out of this," another viewer wrote.
Perhaps. Still, one can't help but wonder about the parents' judgment, considering that Elana told daughter Anaia on the video, "You can't go in quite yet because the sharks are still hungry."
It should be noted that directly under the video linked below, father David Barnes gives his take on the brouhaha.
Video: To watch 5-year-old Anaia Barnes swimming with sharks, click here.
Alligator in Florida River Bites Off
Right Arm of Teenage Swimmer
Although the five-year-old in the previous item made it through her (perhaps misguided) adventure with nary a bite mark, a young man in Florida was not so lucky. According to abcnews.go.com, 17-year-old KalebLangdale was attacked by a 10-foot-long alligator while swimming with friends in the Caloosahatchee River, near the northern edge of the Everglades.
Langdale's vivid account of what happened, as reported by ABC, is both chilling and riveting:
"When the gator's about right here from me [directly in front of him], I grabbed that skin underneath him trying to control him and he just kept going," Kaleb said. "I pulled his head up and I wrapped my legs around him, and then he just went and dove while I was just trying to hold onto him. But he did a death roll and knocked me off."
The gator then dragged the teen under the water, but Kaleb managed to break free and start swimming away. It wasn't long before the gator caught up to him again. "He started pulling me down," Kaleb said. "So I put [my foot] on his mouth and I tried to jerk my arm [away] …and I started swimming back but I felt like a little tug."
Although the teenager was pulled under yet again, he managed to break free and get back to the river bank. The lower part of his right arm was gone, but he had no shortage of courage and resourcefulness. The young man did everything possible to stanch the bleeding until an ambulance arrived — including sticking spider webs he found onto the wound and squeezing his arm between his legs.
The alligator was captured and destroyed, although so much time had elapsed that reattaching the arm was impossible. From his hospital bed, the gutsy Langdale was quoted as saying, "I'm glad it went after me…instead of one of my friends, because I don't think they would have done the same thing and got out of it." And his message to people who want to see him in the hospital? "If you come here to visit me, you cry? You're leaving."
Photo and video: To see a smiling Langdale in the hospital and watch a video about the attack, click here.
Small, Remote Alaska Town
Finally to Get Swimming Pool
It may have taken more than three decades, but the small Alaska town of Bethel – population 6,200 – is finally going to have a swimming pool. The remote community, which can be reached only by boat or small airplane, is located 40 miles from the Bering Sea in one of the poorest areas of the state.
According to a report on alaskadispatch.com, Bethel resident Beverly Hoffman, now 60, and other mothers in the town helped start a civic campaign to build a swimming pool back in the 1980s. The Web site reports:
Decades ago, after a year in which the region had experienced more than a dozen drowning deaths, the moms had decided enough was enough. "We all had young children and thought we've got to do something about it," Hoffman said of the movement's beginnings.
How did she react on learning that Alaska Gov. Sean Parnell approved a state budget with $23 million slated for the Bethel project? "I cried. I couldn't believe it," Hoffman is quoted as saying.
Residents of Bethel spent years holding fundraisers to build the pool — efforts that enabled them to scrape together $200,000. Laudable, but not nearly enough money to undertake the project. Alaska's decision to fund the installation changed everything; now the Bethel pool is scheduled to open in 2014.
Learn more: For additional information about the Bethel Aquatic Health and Training Center, click here.
Toddler to Swim After Two
Dads Get Household Rate
A Virginia same-sex couple with a 2-year-old son has won the right to benefit from a "household membership" at the Roanoke Athletic Club (RAC) — this after filing a lawsuit against the club in late June over alleged discrimination.
According to the Web site abcnews.go.com, the club originally approved a discounted "family membership" for the two men — who have been together for eight years — and their toddler, Oliver, but then changed its mind. Notes the ABC report: "Will Trinkle, 54, and his partner Juan Granados, 40, filed a lawsuit…for breach of contract."
Apparently in response, RAC changed the family membership discount to a household membership discount. The club posted its new policy on Facebook:
A household consists of a primary member and up to one additional household member that permanently lives in the household, and any of their dependent children under the age of 22 who also reside in the household on a permanent basis ...Club dues will not change; dues for the Household Membership will be the same as the Family Membership it is replacing.
The gay-oriented Web site thenewcivilrightsmovement.com reported that in addition to the lawsuit, the company was under pressure from a petition on change.com, which stated, among other things, that Will Trinkle and his "partner Juan Granados wanted to take their 2-yeard-old [sic] son Oliver Trinkle-Granados to the gym's outdoor pool during the summer months." The petition was launched by a gay activist and soon garnered tens of thousands of signatures.
Interestingly, Roanoke Athletic Club is owned by medical provider Carilion Clinic, which has "a company-wide nondiscrimination policy that bans bias on the basis of sexual orientation."
Photo: To see Oliver's two dads and learn more about the case, click here.
'Call Me Maybe,' But Definitely
Gimme that Gold Medal, Baby!
Finally, to watch members of the U.S. Olympic swimming team lip-synching Carly Rae Jepsen's hit song "Call Me Maybe" while flying to, and moving through, London (both in and out of the water), click here. When Ripples watched the video, it had already been viewed by 657,012 people. (Ironically, the swimmers may be "Made in America" but the song isn't: Jepsen is Canadian.) Ah…the beauty and exuberance of youth!!

And with that, Ripples once again says…
Until next time, happy watershaping to you!