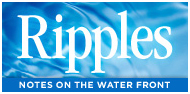 Compiled and written by Lenny Giteck
Skinny-dipping Steven Tyler Shocks Fellow 'American Idol' Judge J.Lo
"American Idol" judge Jennifer Lopez reportedly screamed from shock recently when she spied a naked body in the Le Rêve pool at Wynn Las Vegas; the body turned out to be a skinny-dipping Steven Tyler, one of J.Lo's fellow "Idol" judges. Le Rêve is a long-running, aquatics-based production show at the Wynn.
According to contactmusic.com, "Idol" host Ryan Seacrest described the incident when he appeared on the "Tonight Show" with Jay Leno. Tyler, who also appeared on Leno, joked that he took off his clothes in order to "bed" J.Lo.
The Aerosmith frontman explained to the studio audience and the nation. "Well, I sat at Le Rêve all week and I just thought…I'm a water guy and...I just wanted a good excuse to take my clothes off in front of J.Lo." He added that "I live to try to make her blush."
Guess the old saying "Boys will be boys!" still holds true — even when the "boy" in question is 64 years old.
Calif. Legoland Adding 'Pirate Reef'
Shoot-the-Chutes Water Attraction
Back in September 2010, Ripples reported on the opening of a kid-size water park at Legoland California, located 35 miles north of San Diego. Now comes word that Legoland is about to inaugurate another water attraction. The Web site latimes.com notes:
Debuting on May 24, the Pirate Reef shoot-the-chutes water ride will take riders down a 25-foot drop that generates a tidal wave splash designed to soak bystanders watching from a pedestrian bridge. A pair of pirate ships flanking the flume ride will be armed with water cannons capable of soaking any riders that manage to escape the deluge. Legoland visitors will be able to access the new shoot-the-chutes ride from the Pirate Shores area of the theme park or from the nearby separate-admission water park.
In the next edition of Ripples: Major new water attractions coming to Disneyland Paris and Universal Studios Orlando.
Image: To see an artist's rendering of what the Pirate Reef water ride will look like, click here.
Swimmer Diana Nyad Talks on TED:
Why She Keeps Chasing Her Dream
If you're not familiar with the Web site TED.com, you should be. By way of explanation, the following comes from the site itself:
TED is a nonprofit devoted to Ideas Worth Spreading. It started out (in 1984) as a conference bringing together people from three worlds: Technology, Entertainment, Design. Since then its scope has become ever broader…The two annual TED conferences…bring together the world's most fascinating thinkers and doers, who are challenged to give the talk of their lives (in 18 minutes or less).
No description of the site can truly do it justice. Instead, go to www.ted.com and explore; to listen to the speakers, click on the "Talks" link at the top.
Ripples mentions all this because one of the current offerings on TED comes from legendary long-distance swimmer Diana Nyad. Ripples, of course, covered her two recent attempts to swim from Cuba to Florida — neither of which was successful.
In her TED talk, Nyad relates why she keeps trying to achieve her dream, describes being attacked in the ocean by venomous box jellyfish and addresses dealing with the inevitable regrets and disappointments in life. Her presentation is riveting, sometimes funny, always inspiring.
Video: To watch Diana Nyad speaking at the TED conference, click here.
Tarzan's Chimp Pal Cheetah
Dies at the Ripe Old Age of 80
Cheetah, the simian comedic actor from the Johnny Weissmuller "Tarzan" movies of the 1930s and '40s, died recently of kidney failure at the age of 80 (human years). A number of chimpanzees were used in the films, but the one that just passed away was believed to be the original and the animal most identified with the role.
Cheetah lived at Florida's Suncoast Primate Sanctuary for more than a half-century after leaving Weissmuller's Florida estate in 1960. Weissmuller — who won five Olympic gold medals in swimming events — died in 1984.
Weissmuller's movies frequently featured swimming scenes in jungle lagoons and rivers; Tarzan usually got into a life-and-death underwater wrestling match with a huge, obviously fake alligator. (Guess who always won, even though fully grown male alligators can weight more than 1,000 pounds?) Back in those pre-CGI days, it was pretty exciting stuff.
After Cheetah passed away last Christmas Eve, Debbie Cobb, outreach director for the animal sanctuary, was quoted on articles.cnn.com as saying, "He was very compassionate. He could tell if I was having a good day or a bad day. He was always trying to get me to laugh if he thought I was having a bad day. He was very in tune to human feelings."
On the other hand, a volunteer at the center noted that "when [Cheetah] didn't like somebody or something that was going on, he would pick up some poop and throw it at them. He could get you at 30 feet with bars in between."
That view was corroborated by Mia Farrow, whose mother, the late actress Maureen O'Sullivan, played Jane to Weissmuller's Tarzan. After Cheetah's demise, Farrow Tweeted, "My mom...referred to Cheetah-the-chimp as 'that bastard' — saying he bit her at every opportunity." (thewrap.com)
And how did Cheetah spend his days at the sanctuary? Apparently, he enjoyed finger-painting (his efforts reportedly sold for more than $100 a pop), watching American football and listening to Christian music.
If Cheetah did indeed pass away at the age of 80, he achieved remarkable longevity: Generally speaking, chimpanzees in captivity are said to live about 60 years.
Video: To watch a TV news report on Cheetah's life and death, click here.
Giant 'Tarzan Pool' in Paris Gets Art
Makeover Before Being Demolished
Finally, on a related topic…the enormous "Tarzan Pool" in Paris is slated for demolition sometime later this year, according to a blog on the Web site urbanartcore.eu. The blogger dubbed the Piscine Molitor (the pool's actual name) the "Tarzan Pool" because Johnny Weissmuller inaugurated the renowned Art Deco installation back in 1929.
The blogger — who for some reason is not identified — writes:
Instead of that great, abandoned Art Deco design atmosphere, the new investors leased the property for 54 years (for round about €64.8 million) and are going to build a 4-star hotel, a health center and a medical center, as well as retail, restaurants and parking facilities, what in my eyes is completely incomprehensible…For that reason, half French, half Hungarian, Los Angeles-based artist Mambo created a giant swimming pool collage, as a giant tribute to the Olympic champ as well as a bridge between [that] golden era and today.
Although Ripples had never heard of the artist Mambo before, it's safe to say that most people think his signature dance step is tres merveilleux. In any event, the upcoming demolition of this venerable pool is in marked contrast to how another French city — Lille — dealt with its vintage Art Deco swimming pool, which also had seen better days. As Ripples reported back in July of last year:
According to the Web site neatorama.com, "Instead of abandoning the building, the city undertook an extensive renovation project, turning the facility into a museum called the La Piscine-Musée d'Art et d'Industrie André Diligent. The locals just call it La Piscine."
Mon dieu…what were the Parisians thinking? At least we can still catch a glimpse of Mambo's artistic endeavors before the pool meets its ignominious end.
Images: To watch a video of Monsieur Mambo at work, click here and scroll down. Don't miss the still photos further below. For more information about the Piscine Molitor from Wikipedia, click here. To see La Piscine in the city of Lille once again, click here.
Until next time, happy watershaping to you!