Compiled and Written by Lenny Giteck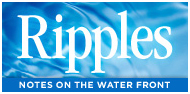 '90210' Actress Shannen Doherty
Walks Over Water to Get Hitched
A few weeks ago, actress Shannen Doherty walked over water to get married to Kurt Iswarienko (say that 10 times fast!) in Malibu, California. This is the 40-year-old Doherty's third marriage.
Note that Ripples did not say "walked on water": As far as can be ascertained, no biblical-style miracles were performed at the joyous event. Rather, a bridge was constructed lengthwise over the wedding venue's outdoor pool. Since the bridge had no handrails, the wedding march across it must have engendered considerable anxiety for all involved — principally for the bride, of course.
One hopes this will not be another case of a Hollywood marital "bridge over troubled waters" — à la Kim Kardashian, whose recent wedding cost an estimated $10 million, and whose resulting marriage lasted all of 72 days before the couple sang "Let's call the whole thing off!"
It should be noted, however, that according to The Hollywood Reporter, Kardashian, Inc. may actually make a hefty profit from the wedding due to lucrative TV and magazine deals, product placements, etc. In case there was any doubt that life ain't fair…
But, Ripples digresses. May Shannen and Kurt have a long and happy life together. After all, third time's the charm!
Photos:
To see the Shannen Doherty wedding bridge, click
here
and scroll down.
Michael Phelps Video Game Being
Shipped to North American Stores
It's official: The company 505 Games has started shipping the long-awaited "Michael Phelps: Push the Limit" video game to retail stores in North America. The game is on Kinect for Xbox 360.
As marketwatch.com reports: "'Michael Phelps: Push the Limit' offers players the chance to compete against each other as well as against one of the most decorated athletes of all time, Michael Phelps. Fans play in quick matches in single player or local/online multiplayer against friends, or immerse themselves in the challenging and fun Career Mode where they swim their way to the podium through some of the most breathtaking locations across the world, finally facing Michael himself in the final."
As further evidence that Michael's "challenging and fun Career Mode" as a product endorser is back on track following his much-publicized bong incident, 505 Games reportedly entered into an agreement with Speedo to include a multitude of product placements in the game (think Speedo swimsuits and Speedo swim caps). "In addition," continues marketwatch.com, "players strive to compete in the Annual Games which are held in the Speedo Stadium, a specially built in-game environment, including a winners' podium."
Now, that's some powerful marketing mojo.
For more information, click
here
.
Lose Your Shirt Before You
Lose Your Shirt at Blackjack!
Speaking of games people play…
One of the coolest trends in "gaming" (translation: gambling) these days, according to Web site blackjackchamp.com, is to position floating blackjack tables in casino hotel swimming pools. The phenomenon apparently started a couple of years ago when Caesars Palace in Las Vegas underwent extensive renovations, after which the resort began hosting swim-up blackjack in its Fortuna pool (named after the Roman goddess of good luck).
As Don Marrandino, president of the Harrah's Resort, Showboat, Caesars and Bally's Atlantic City casinos (all owned by Caesars Entertainment), was quoted as saying in the blackjackchamp.com article, "There are at least five casinos in Vegas that have blackjack by the pool. I think we should get our 'learnings' on from there and use it here [Atlantic City] to make things more unique."
(Ripples has never heard the expression "get our 'learnings' on." Furthermore, Ripples is perplexed as to how copying something could "make things more unique." But on both counts…whatever.)
Apparently, Marrandino has gotten his "learnings" on: Atlantic City's Harrah's Resorts Casino has demonstrated its intention to follow suit (so to speak) by asking the powerful New Jersey Division of Gaming Enforcement for permission to put in floating blackjack tables. (Luckily, the pool in question is under a dome, which will protect wet gamblers against the harsh New Jersey winter weather.)
Here's hoping Harrah's is playing its cards right.
Ripples Gallery: 'World's 15 Most
Spectacular Swimming Pools'
Ripples has covered these types of Internet lists before — and while we can't vouch for the veracity of the headline's extreme claim, we do agree with the subhead: "Amazing pools in amazing locations, including one that's so special you're not even allowed to swim in it." The list comes from ccngo.com.
Photos: To peruse these beautiful water installations, click
here
.
Note
: There are three pages of images.
Japanese TV Commercial Pool Silliness
And American Youth Fountain Silliness
Silliness is as silliness does…whatever the heck that means. Ripples, for one, thinks there's plenty of water silliness to go around — as evidenced by the videos linked below.
The first is a Japanese TV commercial that features female swimmers performing strange gyrations as they make their way across a pool. What product is the commercial advertising? You'll just have to watch the video to find out, since Ripples is sure you'd never be able to guess in a million years.
The second video is of American young people performing their rendition of "The Human Fountains of Bellagio." Exactly why they would take on this project is unclear, but they obviously brought a great deal of Yankee ingenuity and high-spiritedness to their interpretation of the famous Vegas attraction. Ripples guarantees this will bring a smile to even the worst sourpusses among us.
.
Until next time, happy watershaping to you!