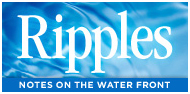 Compiled and Written by Lenny Giteck
George Clooney: Bodacious
Skinny-Dipping in Lake Como?
A great many women all over the world are already swooning over actor George Clooney — so you can imagine their reaction when they learn
he's a big aficionado of skinny-dipping at his villa on Italy's Lake Como.
Or is he? After a flurry of contradictory reports, Ripples concludes we may never know the naked truth.
According to the "Vulture" section of nymag.com, when asked about the many stories of in-the-buff activity, Clooney responded: "It's part of my process! After we finish a film, everybody jumps in the lake!"
He continued: "It's a tradition at my house. Charlie Rose, let me tell you — first we got Walter Cronkite to jump in, then I got David Gergen to jump in. I used [the example of] Walter Cronkite to get Gergen to jump in, and then I used Marisa [Tomei] and Evan [Rachel Wood] in the lake to get Charlie Rose to jump."
Walter Cronkite?! The late, legendary TV anchor didn't seem to be the skinny-dipping type — and indeed, according to Marisa Tomei on Conan O'Brien's show, Uncle Walter was hardly in his birthday suit when he took the plunge. Noted the Web site aceshowbiz.com: "'[Cronkite] jumped in in full tux,' the 'Crazy, Stupid, Love' actress went on to share. 'So, the only way to really top that was to go the whole other way!'"
However, Clooney also insisted, "But really, no, we weren't skinny-dipping. Some people do skinny-dip, but it's funnier if I go upstairs and put a suit on, and then I jump in the lake." Funnier?
In any event, Ripples couldn't give a flying skinny-dip whether George does or does not swim in the all-and-all. The entire brouhaha seems to have more to do with the premiere of the star's new flick "The Ides of March" than anything else. Imagine how much a publicist got paid to come up with this brilliant attention-grabber, which undoubtedly will garner a gazillion dollars' worth of free publicity.
Ripples wonders, what must the tuxedoed Walter Cronkite be thinking in the Great Newsroom in the Sky? Probably "And that's the way it is…Oct. 12, 2011."
Video: To watch George Clooney's statement to E! Entertainment on this burning issue of the day, click here.
Cavalcade of 1950s Fancy Swim Caps
— a Must-Watch Blast from the Past!
We don't pay all that much attention to swim caps nowadays, but apparently in the 1950s they were considered important fashion accessories — as this somewhat campy (by today's standards) British Pathé clip demonstrates.
Who is the male foil for the bevy of frilly-capped beauties in the show? None other than Punch of "Punch and Judy" fame. The yam-nosed puppet seems a bit befuddled by the whole thing; perhaps he misses trading blows with Judy?
What Ripples can say about this clip is — to borrow a phrase from a '50s DeSoto car commercial (which came from an earlier Cole Porter song) — "It's delightful, it's delicious, it's de-lovely."
Video:
Punch will always be Punch, but the ladies in the fancy swim caps are
real knockouts
. To get knocked out by them, click
here
.
What Rocker Melissa Etheridge Taught
Brad Pitt to Do in Her Swimming Pool
Veteran rock singer-songwriter Melissa Etheridge recently told "Access Hollywood Live" that in the early '90s, she trained Brad Pitt to perform a very important aquatic-related skill. The lessons took place in Etheridge's backyard pool at her Hollywood home.
What was the skill? The butterfly stroke? Diving? Snorkeling? Wrong…wrong…and wrong. At the time, Pitt was up for a part in "A River Runs Through It," and Etheridge taught him the fine art of fly-fishing.
According to AccessHollywood.com, Etheridge explained that she "grew up in the Midwest and loved to fish, totally a huge fishing and fly-fishing [fan]." How did the actor do? "Well, he got the part. He did great," Etheridge said.
The Web site went on to report: "The former fly-fishing pals have lost touch in recent years, but it appears Brad still holds a special place in Melissa's heart. 'He's a wonderful guy,' she said of the leading man. 'I haven't seen him in years. Love you, Brad, wherever you are.'"
Singapore's Amazing Changi Airport
Has Pool and Spa for Weary Travelers
Singapore Airlines regularly wins accolades as one of the best — if not the best — airline in the world, so it should come as no surprise that the island nation's main airport has set the bar similarly high. Changi International (pronounced "Chung-yee"), considered by many to be the most traveler-friendly airport in the world, boasts an impressive array of features to pamper international passengers passing through the facility.
Those features include the following: hair and beauty services; live entertainment; a nature trail; a children's playground that includes a four-story-high slide; free movies; an aviation gallery; medical services and pharmacies; convenience stores; numerous high-end shops; a wide range of restaurants; postal and telecommunications services; comfortable rest areas for napping; shower, fitness, massage and spa services; free two-hour tour of Singapore — well, the list goes on and on.
For nature lovers, there are the Butterfly Garden (Terminal 3), which includes a 19-foot grotto waterfall; the Cactus Garden (Terminal 1); the Fern Garden & Koi Pond (Terminal 2); the Orchid Garden & Koi Pond (Terminal 2); the Sunflower & Light Garden (Terminal 2); and the Fragrant Garden (Budget Terminal).
Finally, as Changi puts it: "Enjoy the relaxing ambience of the Balinese-themed swimming pool and poolside area…. Passengers staying at the Ambassador Transit Hotel may use the pool and Jacuzzi for free. Otherwise, a small fee of $13.91 SGD [around $10 US] is charged to nonresidents for the use of the swimming pool and Jacuzzi, including the use of the shower facilities, a towel and a complimentary nonalcoholic drink from the bar. The swimming pool is located at: Terminal 1."
The Ambassador Transit Hotel has branches in all three of Changi's main terminals; in-transit passengers may rent rooms for as short a stay as six hours (starting at approximately $45 US).
If you happen to be a confirmed masochist, Ripples recommends thinking about all the above next time you're suffering the manifold indignities of, say, LAX. On the other hand, Ripples — who is not a masochist — can't wait to land in Singapore someday!
Photo:
To see a photo of the swimming pool and spa at Singapore's Changi Airport, click
here
.
Videos:
To see Terminal 3, click
here
; The Butterfly Garden, click
here
; The Orchid Garden with koi pond, click
here
; The four-story-high slide (tallest in Singapore) being built and enjoyed, click
here
.
Until the next edition of Ripples, happy watershaping to you!