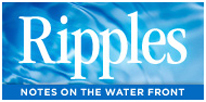 'Touch the Wall': Missy Franklin,
Kara Lynn Joyce Swim on Film
A movie documenting young swimming phenom Missy Franklin's training regimen and life before the opening of the 2012 London Olympics premiered last month in New York City. "Touch the Wall" also focuses on the role veteran Olympian Kara Lynn Joyce played by training with much younger high school swimmers — including Franklin — who aspired to go to London.
Franklin, now 19, did compete in London, where she garnered five medals, four of them gold. Joyce, a decade older than Franklin, also competed in London — as she had at the 2004 (Athens) and 2008 (Beijing) Olympic Games. She has won four Olympic silver medals in her competitive career.
An article about the documentary on the Web site swimmingworldmagazine.com noted the following:
"Touch the Wall" is the story of two amazing women and their journey to swimming's highest stage — the 2012 London Olympics. [It is] a story of winning and losing, of commitment and triumph through adversity. It's also a story of family, of loving what you do, and having fun with the people around you. In a world starved for heroes, Missy and Kara stand tall in "Touch the Wall."
Sounds to Ripples like this is a must-see movie for anyone involved in, or even just interested in, the world of competitive swimming — as well as for anyone who wants to explore the meaning of heroism.
To watch two trailers for "Touch the Wall," click here and here.
For more information about how you can see the film, visit the "Touch the Wall" Web site by clicking here.
And with that, Ripples once again says…
Until next time, happy watershaping to you!