By Lenny Giteck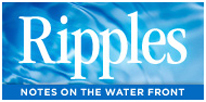 Shakespeare Classic Performed
In U.K. Edwardian Pool Complex
Over the years, Ripples has reported on a number of artistic works performed in or around swimming pools — for example, the specially composed opera that premiered in a Berlin pool back in 2011. At the time, Ripples provided the following information:
"Aquaria Palaoa" is the brainchild of Claudia Herr, a champion swimmer in her youth before turning to singing. Playing the lead role, she dives into the Stadtbad Neukölln pool in her green evening dress.
So it's not all that surprising that Manchester, England's Home theater and arts company recently mounted a performance of Shakespeare's "Romeo and Juliet" inside the city's iconic Victoria Baths, a semiderelict facility that was partially renovated in the early 2000s.
Making use of the odd venue was necessary because the ironically named Home company is — alas! — without one. According to a review of the performance on theguardian.com, Home is "still homeless while waiting for its £25 million arts complex to be completed." The company's permanent vanue is slated to open in spring 2015.
Although public funding allocated to renovating the Victoria Baths was adequate to restore the facility halfway, there wasn't enough money to bring it back to its former, functioning glory. Nevertheless, the show must go on…and so it has.
Guardian reviewer Alfred Hickling notes the following:
Walter Meierjohann's production opens with a startling coup: placing the audience at the deep end of an empty ceramic pit while the Capulets and Montagues emerge from the ranks of changing cubicles along each side. It can feel a bit like watching Shakespeare in a grand public toilet.
Truth be told, "watching Shakespeare in a grand public toilet" — especially if it involves standing for three hours, as was the case in Manchester — has never made it onto Ripples' personal bucket list. Still, dear reader, if that is one of your "things I want to do before I die" desires, take heart: The dream is not as impossible as you might have assumed.
To learn more about the performance, click here.
And with that, Ripples once again says…
Until next time, happy watershaping to you!