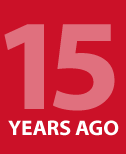 By David Tisherman
'To my way of thinking,' wrote David Tisherman to open his Details column in August 2004, 'professional design work requires a professional workspace in which all of the necessary professional tools are available.
'In fact, for the designer creating custom watershapes, I see the space in which the work actually unfolds as being critical and cutting to the very heart of what it really means to be a "designer." I know that
term is a loaded one, which is why I put it in quotation marks. After all,' he continued, 'anyone can say that he or she is a designer.'
***
'Once you reach beyond [the] rudimentary level, there are some details about being a designer that absolutely have to be in place. Yes, it starts with your background and experience, but it's also about your work environment and the tools you should have. More important, it's about actually using those tools on a regular basis – to the point where they become extensions of your mind and hands.'
***
'[A] design studio will always start as an empty space you select as your work area. If possible, it should be large enough to accommodate a drafting table, flat and regular filing cabinets, a blueprint machine, a copy machine, an array of supplies and, one hopes, a large flat space for spreading out plans, catalogs, magazines, reference books and other space-eating necessities.'
***
'No selection is more critical than the drafting table. When I first started, I sat at a six-foot, eight-inch by three-foot hollow-core door . . . propped up on a pair of wooden sawhorses. It worked like a charm and gave me the room and surface I needed.'
***
'For my work, having the ability to generate technical drawings in a variety of sizes and formats is critical, so one corner of my studio is home to an old blueprint machine. . . . I also have two ordinary copy machines. Both have reduction and enlargement capabilities, which I find extremely useful in working between scales (as is often necessary).'
***
'Another important area is devoted to the proper storage of drawings and renderings. I have regular, legal-size filing cabinets for my business records and catalogs, but I also have a large, flat-file cabinet – the kind with really wide, shallow drawers. This prevents the kind of clutter I see to often in design and construction offices.'
***
'Now we come to the heart of the matter for someone who favors hand drawing. The list of drawing tools you can place at your disposal is long, indeed. To me, a designer's familiarity with these items is one of the things that separate true artists and designers from the rest of the pack. From beam compasses and adjustable triangles to elliptical templates and pencil sharpeners, these are the tools that allow for generation of quality, detailed drawings.'
***
'I could easily go on at [great] length [about these drawing implenments]. . . . But this is a start. . . . The main point here is that to use the tools, you first need to own them and, even before that, have some idea of their purposes and roles. If you don't have a full complement of these items, common sense says that you'll never learn to use them.'
***
'I'm also aware,' David concluded, 'that everyone who rightly calls himself or herself a designer has a slightly different way of approaching the work and that the tools that serve me best may not be favored by everyone. Nonetheless – and starting with adequate space and a good work surface – there are certain of these items that are essentials in every studio.'
Do you share David's sense that, although the layout of a design workspace can be flexible, there are certain tools that must be on hand to allow the process to unfold? Or have you jumped completely over to computers and find that things have changed so much in ten years that David's lead here is harder to follow? Please share your thoughts by commenting below.
David Tisherman is the principal in two design/construction firms: David Tisherman's Visuals of Manhattan Beach, Calif., and Liquid Design of Cherry Hill, N.J. He can be reached at This email address is being protected from spambots. You need JavaScript enabled to view it.. He is also an instructor for Artistic Resources & Training (ART); for information on ART's classes, visit www.theartofwater.com.