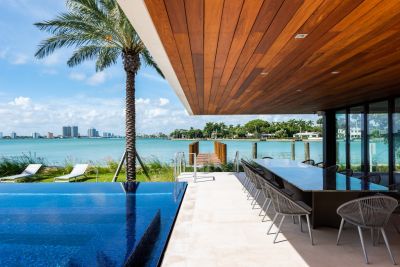 An Interview with Paul Fischman by Andrew Kaner
Through the years, we at Aquatic Consultants (Miami, Fla.) have formed bonds with several architects and landscape architects whose efforts we support with plans and details for the aquatic systems they're including in their projects.
In that capacity, we have worked with Paul Fischman with some frequency. He's a partner at Choeff Levy Fischman, a Miami-based architecture firm, and in the past eight years we have seen our relationship grow to a point where we now consider
ourselves to be part of CLF's extended family.
From the start, it has been about maintaining trust, establishing lines of communication and figuring out where his firm's needs begin and end so we fit seamlessly into their design-development process. Our collaborations – some of them seen in the photographs accompanying this text – highlight an important evolution of the relationship of watershapers with other design professions, and I recently sat down with Paul to discuss the dynamics of such relationships and their current state of the art.
-- Andrew Kaner
Paul Fischman
When I started my career, I spent most of my time working with commercial clients on large buildings and developments, but in recent years I've moved over to meet the needs of high-end residential clients. Really, these are the most satisfying projects not just for me but for the firm – ones that are end-user rather than developer driven – because that's where we really get to put our creativity to work and think outside the box.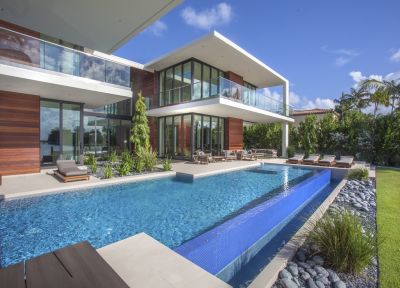 Right now, we have 30-plus projects in the works, and every one of them incorporates water in some way.
Andrew Kaner
Obviously, we're excited that you like water as a medium, because that's what we do. But from your perspective, when do you start thinking about water? How far do you take it in your own office beyond, say, drawing a rectangle on the page and indicating that you want water to flow in this direction or shoot out in that direction? In other words, at what point do you pick up the phone and call in a consultant to help you?
P.F.
Let me start by saying that we bring water into our plans for several reasons. With our homes, we do all we can to create spa-like atmospheres – very elegant, very tranquil. And it starts from the street, as the homeowner rolls up the driveway and leaves the city's hustle and bustle behind. Right away, we want them to see, hear and, soon, be able to feel water – its cooling influence and soothing presence. We also consider basic environmental factors: Many of our projects face the waterfront, but these properties frequently back up against busy streets, so we want our entry waterfeatures to generate white noise and begin the mood transformation.
It's also a hallmark of our designs that we often like to make our structures seem to float, which clearly gets us deeply involved not only with water, but also with challenging structural cantilevers and all that comes with them. And we frequently need to accomplish this in high-velocity hurricane zones, with all of these structures requiring high-performance engineering. Our ambition is to greet our clients and their guests with a sense of wonder, of mystery – and get it done in ways they don't need to understand to appreciate.
Consultants like you play a big role in making all of this happen and often help us lift our ideas to all-new levels. That's the key: Consultants have experience that enables us, as architects, to reach beyond the ordinary in our concepts – and then have our expectations exceeded.
A.K.
This is why we love getting calls from you. We work with lots of architects and landscape architects on amazing projects, but we always enjoy working with you because we know you want us to help you hit those new heights.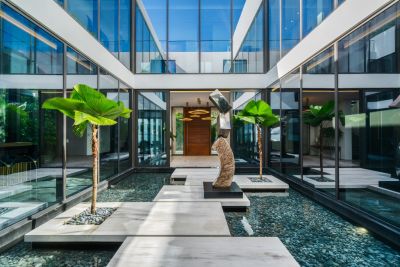 When the call comes, we know you're going to ask us to help you tie things together and, for instance, make the floating effect work by getting the visuals just right. But where we help just as much is in helping to accommodate clients' intended use of the waterfeatures: Sometimes the water is just there as art and the pool or spa will seldom if ever be used. But other times, we learn that a client really will be involved with the water, and this is where we get most fully engaged.
We've worked on projects with you where, for example, a retire athlete has a number of aches and pains that might be assisted by hydrotherapy. If that's the case, we'll go out and take detailed measurements of the client's body to set exact elevations where spa jets should hit their necks or shoulders or lower backs or feet and lay the spa out accordingly. It becomes a process of customizing the product to a specific client's specific needs – and sometimes there are others in the household who have personal requests as well.
This utilitarian stuff is very important, of course, but we also need to stay focused on your vision as the architect and make it all both beautiful and fully integrated into the setting. Even more so, we need to consider the client's personality and figure out how they really will relate to the water.
P.F.
Personality is actually one of the biggest factors we take into account before we start laying out a plan and site features and waterfeatures, because, like you, we know that some clients will never get in the pool or use the spa and don't know anything about the decorative waterfeatures because the property manager is the one who controls all that.
Of course, we also run into the occasional tech-savvy client who knows every detail of the WiFi control system and everything involved with the DMX lighting controller. The point is, we make certain nothing is an afterthought: We get to know our clients, come to know what they're after – and we could never reach the desired results if we began work on site and just left a lot of blanks in our plans to fill in later.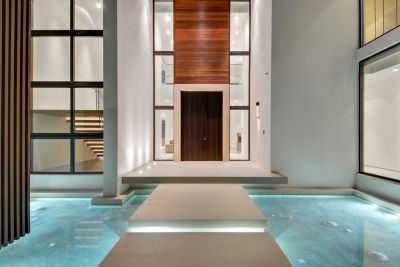 We work in a lot of communities where square footage is at a premium and there's an inclination to use every available inch for the house. What I learned quickly is that I need to nail down details ahead of time to make everything fit – and that includes equipment for what are often extremely elaborate aquatic features. It wasn't long before I recognized how important it is to bring consultants in early on so I can fully figure out what we're all up against – and that includes not only an aquatics expert but also those involved with the mechanical, electrical and plumbing systems as well as civil engineering and landscape design.
From you, for example, I need vault specifications, piping details, elevations – everything I need to factor into our final design package. This is where we look to you to add value to the overall program: If I don't bring you in early in the design phase, it's unlikely all of the necessary integrations will occur, which will result in change orders and extra expense down the line. These are big-budget projects with huge stakes, which is why the word "afterthought" is never one I want to use or ever hear.
As for what I approach you and other consultants with, I'd say we hand over broad brushstrokes that require further definition. I'll indicate proposed positions for pool equipment and vaults and collection tanks; I'll show a rain curtain falling from the second floor – or a sheet flow from a balcony into a spa. I'll indicate a shallow lounging area or in-pool benches that offer views out onto Biscayne Bay. But I rely on you as a consultant to pull it all together and kick it up a couple notches.
As I see it, we're only as good as our consultants, and we do what we can to make certain you're fully involved as part of a collective, holistic process.
A.K.
We like working that way – being part of the team, coming in and getting a feel for the direction you're pursuing and what it is we'll be bringing into reality. And as you mentioned, the aquatic component of these projects can be amazingly complex, with rain curtains and vanishing edges and spas with stand-up therapy wells or special massaging jets and high-powered pumps to create swimming currents or lazy rivers. Obviously, the equipment sets for these packages can be amazingly complex and will eat lots of space. It seems to me that this all has to be considered early in the design phase.
P.F.
For us, it happens in our schematic design phase, particularly when we know space will be tight. In no way do we want to have to redesign part of the house to accommodate unanticipated pool systems: We tackle everything early on so there are no significant surprises down the line.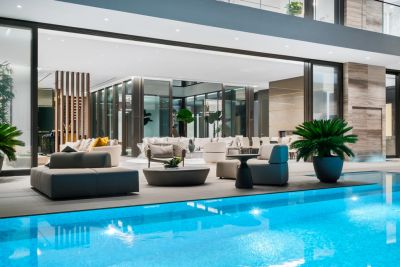 I think this early-consultation approach is more common now than it was before. We designate equipment areas early on and do what we can to hit the mark exactly with respect to the space allowances we make. Sometimes things might need to grow a little; more rarely, they'll shrink. But again, we don't want anything to become an afterthought, and what we're doing now works. We consider it just the right way to go.
A.K.
It's our experience as well that this is the correct approach. We also find that it's important for us to be responsive if we're fortunate enough to be brought in early in the process and get back to you or the client in a timely fashion. And finally, it helps that, through the years, we've learned to ask lots of clarifying questions early on so we know up front if a waterfeature will require us to place equipment at an unusual elevation relative to the body of water to make it work as desired or if a collection tank needs to be larger or closer to this or that feature. This is the expertise we add to the mix when we're fully in the loop.
P.F.
One thing about working with you adds even more value, because your contribution goes beyond the water: You help us with hardscape and landscapes and drainage, too, and know the effect that consideration of grade beams or trees' root balls will have on a design. That's valuable to us, although that kind of multi-disciplinary overview isn't something we find with most consultants.
It's all about enabling us as architects to design on a macro level rather than having us focus on one item at a time in sequence: Consultants enable us to keep our eyes on the big picture instead of getting bogged down in a project's details. So yes, we like consultants – and we probably bring them aboard earlier than most architecture firms.
A.K.
There's another factor for us in developing these relationships with other professions in that many clients (and architects) stigmatize us as "pool guys" and are ready to dismiss us as soon as we open our mouths. But we're persistent, and when we open things up and we start to describe details and offer concepts and come to be seen as problem solvers, we start building trust and earning a seat at the table – increasingly before it's too late for us to be of greatest value to the team.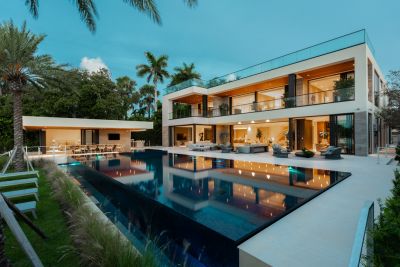 As we see it, we have the ability you described earlier to take an architect's or landscape architect's use of water to a higher plane. Getting to the table early is the key to our capacity to make that happen. But then there's another step – that is, finding a contractor who can jump in, share the vision and bring the project home per plan.
So from your perspective, what's it like when things work out, a consultant gets involved early and delivers a set of plans that is very detailed – more detailed than a typical pool builder is usually asked to implement? How do you manage the construction side if that's the case?
P.F.
The way I see it, it actually helps because what needs to be done is quite clear from the outset and we insist on things being built according to plan. Your plans, for instance, show exactly where you want slabs and beams to go to accommodate all related details. It's all about integration: As architects, we need to take information from an aquatic consultant as well as mechanical, electrical, plumbing and landscape consultants and roll it all up into one cohesive, workable package.
All that detailed information helps us shape production and construction phases efficiently: When we're able to look forward, all is well. If we need to step back, that's trouble and time and cost.
A.K.
I agree with you that integration and cohesiveness are huge on both the equipment and technical sides. It all has to work together, technically and visually, so it makes sense to anyone moving through the space. This is why we do what we can to use materials that flow from one element to the next, whether it's a finish treatment or the repeated use of, say, stainless steel weirs. And we try to feed multiple systems from one hydraulic system as a bit of value engineering.
P.F.
We appreciate and value that sort of insight – always have, always will.
Paul Fischman is a partner in the Miami, Fla., architecture firm of Choeff Levy Fischman. A specialist in high-end residential design, he earned a bachelor's degree in environmental design from the University of Colorado in Boulder before receiving a master's degree in architecture from the University of Miami. He is an active member of the American Institute of Architects, the National Council of Architectural Registration Boards and the U.S. Green Building Council; he's also a LEED-accredited professional. For more information, visit cflarchitects.com. Andrew Kaner is president of Aquatic Consultants Inc., Miami, Fla. A graduate of Florida International University (Miami) with a master of landscape architecture degree, he has continued his professional education through Genesis University and is a master in its Society of Watershape Designers. He may be reached at This email address is being protected from spambots. You need JavaScript enabled to view it..