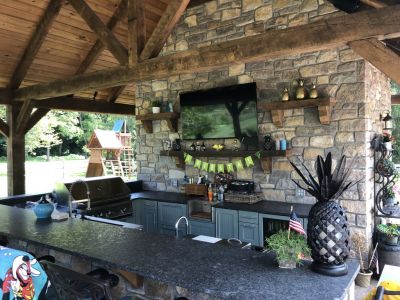 By Scott Payne
I love the outdoor living part of the conversation, and our clients do too. It's so important because two of the big keys to success in business are paying attention to the client, and you have to be able to adapt. The outdoor living piece lead to both.
We always start by looking at what people are seeking. What do they really want? Almost always that boils down to some kind of at-home, outdoor experience or set of experiences. That can mean a lot of different things to different people, so you have to narrow it down. More than any other aspect of the design process -- whether it's material selections, layout, the type of shade structure, or the shape, depth and location of the pool – all of that is determined by what the clients plan on doing when they step outside.
SAME UMBRELLA
Ultimately, focusing on outdoor living can lead or even push you to a broader business model. It's more dynamic than just concentrating on pools. You have more control, make more money and it's less frustrating! Most of our clients are successful, busy people and none of them are interested in acting like the general contractor for their project. Since we are onsite anyway, it makes sense that we take on the entire outdoor environment. It broadens what we do and it creates a more coordinated, controlled and reliable process from the homeowner perspective.
I've worked for other companies that didn't do it that way and sometimes the projects turned into total chaos where everyone was at each other's throats. When you step back and think about how you came to that place where everyone wants to sue each other, you realize that it always comes down to a lack of communication and coordination between contractors, who are only concerned about their part of the work. When you bring everything together under the same umbrella, you eliminate problems that stem from not knowing what the other guy is doing. It just makes everything easier.

It also changes the way you look at the design process and especially how you talk to the customer. It's come to the point in our business that we've now done many projects that don't even include pools -- situations where the homeowner is zeroed in on the outdoor kitchen and dining area (more on outdoor kitchens below), and maybe they're planning a pool down the line. Or, maybe, building a pavilion might be the priority instead of the pool.
We find out by asking lots of question: How do see yourselves interacting outside? What are your favorite activities in and out of the water? What kinds of gatherings do you have? Are they big or just few people, mostly adult, or are there going to be lots of kids involved? Do you like to exercise in water, or mostly just relax? Are you a TV watcher? Do you like a drink every now and then? Do you listen to music? Will you be working remotely outside? Do you like to read or take naps outside? Do you enjoy a good cigar by the fire?
KEY CONCEPTS
How they answer those leading questions influences the way everything in the design goes together, the traffic patterns and how the different areas compliment each other. It reminds me of what happened with architecture in the 80s and 90s. We went from floor plans that were very segmented and boxy to more open concepts where the living room flows into the dining room, which is open to the kitchen. There's a great sense of space and movement. That's because those were the home buyers wanted.
Now the backyard has become part of the house that you make use of everyday, not just a feature that's separate from it, a place where you rarely go. Now you can entertain outside, you can cook, you can relax, you can watch TV, accommodate guests, you can work outside, and you can go for a swim and/or enjoy your spa. It's the whole package and it's exciting to be in charge of bringing all those experiences and capabilities into our clients' lives.
Some of our clients' out buildings rival other people's homes as they take indoor activities outdoors. This pavilion is a perfect example with its fully equipped kitchen, bar and TV areas.
All of it goes into the process of giving them the perfect outdoor environment within the limitations of their budgets (and everybody has a budget, from the wealthiest clients to those with far more modest means). To sum it up, this ongoing evolution has transformed our business, and I believe it's expanded the entire industry. We're not in the pool business anymore; we're in the outdoor living business that includes pools, and a bunch of other things.
On top of all that, it's the most enjoyable part of what we do. When someone sends me a video of their first outdoor party or the first time they all jump into the pool together, it makes me smile. We make friends with our clients and many of them become customers for life.
We're creating memories for these people and there's almost nothing that we can't do. You sit down with them and get to know their kids' names and their relatives, their personal history, their taste, where they've traveled, their hopes and their values. It's the cherry on top when the client lets you into their life.
WHAT'S FOR DINNER
Let's look at what is arguably the centerpiece of the landscape, certainly the element that grown the most in popularity in recent years – the outdoor kitchen. Everything you can have indoors, you can have outdoors. That means you have get on the same wavelength with the client and understand, in specific terms, what they want to do and for how many people.
It used to be either a gas grille or a charcoal barbecue, along with an ice chest and a boom box. No disrespect to those old memories, but it is amazing how much things have changed since the days of grilling dogs on your dad's Weber. Now you have an entire category of quality, relatively expensive appliances with a host of features designed to suit our clients' culinary and entertaining needs. These are products that are built to last in the elements and will be there indefinitely.
There are all sorts of versions of gas grilles and charcoal burning products. You have the ceramic and caste iron eggs, which can reach tremendously high temperatures. We offer an egg that can heat up to 900 to 1,000 degrees. We include smokers because it's an expensive, easy and delicious hoppy?? that's become more and more popular among our clients. On the grille side, you have a wide range of features including side burners, rotisseries, warming trays and ovens, with all sorts of features and variations. The same kind of evolution has happened with outdoor icemakers and refrigerators, keg coolers and taps, beverage centers and even outdoor freezers.
These quality products are all an investment in the outdoor lifestyle and should be wisely chosen, because they can add up to a significant expenditure. To a large extent, it only makes sense that the appliance choices should be based on what the clients enjoy cooking.
Here's a common example: if you're client likes to boil crabs, lobsters or clams, or even large quantities of pasta, that means you've got to be able to bring gallons of water to boil very quickly. If the outdoor kitchen only has a standard side burner, you'll grow old waiting to bring four or five gallons of water to boil, it might take hours, literally, or it will never boil. For those situations, I'll tell them they need a power burner with 70,000 Btus (a normal burner is about 17,000).
The same sorts of consideration go for the physical design of the kitchen structure. For example, you allot about 30 inches of linear space at a bar for each person. So, if you have a family of seven and you want all of them to sit at the bar at the same time, that will require 210 inches or at least 17 ½ feet. That's a long bar, which in turn directly impacts the size of your shade structure because, as much as possible, you don't want some people in the sun and others in the shade.
Shade structures themselves are a key item that some people overlook. Again, there's an exciting array of product and designs available, everything from large umbrellas to retractable canopies to sculptural shade sails.
When we have all our questions answered, only then can guide them through the myriad options, and offer imaginative ideas that they hadn't thought of on their own.
LIFESTYLE LAYOUT
It really can be amazing how one thing leads to another when you start down these paths with clients. I just spoke with a couple of new clients, a husband and wife who wanted their outdoor kitchen near the house, which meant that they'd have to extend the roof on the back of the house to create shade for the kitchen and dining area. I pointed out how that would darken the rooms on that side of the house, something they hadn't previously considered.
Rather than make the inside of their house dark and gloomy, while going to all that expense, I suggested they move the whole thing out to the pavilion they're building on the other side of the pool, making it more of a destination and a gathering place, while saving all that money they would've spent on remodeling their roof.
They loved it, and they let me know that no one else had thought it through to that level, which is why we're their choice. There are lots of decisions like that on most every project, especially in the design phase where you decide where put the fire ring or outdoor fire place, or locate the main dining area, or the drink center, or outdoor TV or the spa and, of course, the pool itself.
Designing outdoor living spaces means creating destinations, like this fire ring area, and organizing easy and attractive paths and transitions between spaces.
Pools, of course, are an epicenter of the outdoor living environment, so you have to think it through where the pool is located, it's design and what surrounds it. You shouldn't, for example, locate the deep end by an outdoor bar area. That's where you want the tanning shelf, the steps or the spa. You create a social zone just by how you orient the pool design with the landscape. Landscape architects often talk about creating zones, especially in commercial spaces. That's what we do in the backyard; we create areas for different activities that arranged in a sensible way.
Much the same thing can be said about outdoor furnishings. In a sense, the outdoor spaces we create set the table for the furnishings and other decorative items. I know many builders don't get involved in selecting and selling furniture, but we've found it's a great way to see the project through to the end, to guide the client in making decisions that are both functional and consistent with the overall design. Again, the variety of quality products has grown dramatically in recent years, so just like with kitchens, we're there to help them get what they will need and use.
It's mostly just commonsense, so the real trick is just thinking about it from an outdoor living perspective in the first place, and knowing design and how different products fit in and support the client's desired lifestyle.
When you do, you might just discover a whole new way of doing business, and ultimately making the people you serve happy and grateful.
Scott Payne is owner and president of Scott Payne Outdoors in Montgomeryville, Penn., a complete design and construction firm specializing in custom pools and spas and backyard living spaces. His passion for the swimming pool industry started at a young age as the grandson of world-renown pool builder Tony Bosico.